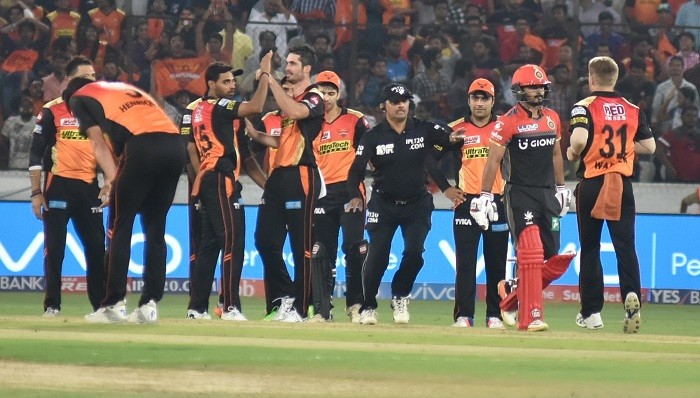 Sunrisers Hyderabad have started their IPL 2017 campaign on a perfect note as they beat Royal Challengers Bangalore in a comprehensive manner. SRH looked focus from ball one, as they piled 207 runs in their first innings with good contribution from Yuvraj Singh, Shikhar Dhawan and Moises Henriques.
Chasing 208 runs to win the opening match was always going to be tough, that too without Virat Kohli and AB De Villiers. The RCB batsmen could not score freely as they lost wickets at regular intervals, especially in the middle overs, leading to their downfall.
It was an impressive all-round performance from SRH, which helped them beat RCB.
SRH win by 35 runs
11:51: Ben Cutting to bowl the final over. Choudhary shows that he can bat with a lovely six in his frst ball, but Chahal is run out the next ball. RCB are all out for 172 runs.
11:46: Bhuvi has been spot on throughout this innings, and against the tail, he should not have much problems. Excuse me, says Mills, who square drives the ball for a six. That would make any batsmen proud. Mills goes for another, it stays in the air for ages before being caught by David Warner. WICKET. RCB 164/9, 19 overs (Chahal 2), need 43 runs from 6 balls
11:43: HAT-TRICK ball, and Nehra beats Chahal outside the off-stump. Same delivery, same result. RCB 156/8, 18 overs (Mills 0, Chahal 0), need 52 runs from 12 balls
11:41: Nehra takes another wicket, perfect yorker to a tail-ender. Bowled. WICKET. RCB 156/8
11:40: Watson on strike and Nehra set to bowl. The skipper starts with a couple, but they need fours and sixes. Nehra dismisses Watson with a low full-toss. WICKET. RCB 156/7
11:38: Last ball, and dot from Bhuvi. RCB 154/6, 17 overs (Watson 18, Aravind 0), need 54 runs from 18 balls
11:36: Full from Bhuvi, and Watson cannot get under it, just one run. Binny top edges the ball, and wicket-keeper Naman Ojha drops an easy sitter. How can a person with gloves drop a catch? You can ask that to Ojha on Twitter when he has time. Again great bowling from Bhuvi, who dismisses Binny. WICKET..RCB 154/6
11:33: Cutting starts with a dot ball to Binny, who hits a wonderful six in the cow corner. That was some cheeky ramp shot from Binny, just one run. He could not connect as he would have liked. Watson spanks the ball into the cover region for a nice four. There was power for you from the Australian, who follows it with a single. 12 runs from the over. RCB 151/5, 16 overs (Watson 18, Binny 10), need 57 runs from 24 balls
11:27: Rashid is bowling well, and not giving much freebies. He is getting the bal turn both ways. Binny goes for a sweep, misses it, and umpire says not out as Rashid pleads. This is amazing from the leggie, whose last ball of the spell goes for a six. It had to be Watson. RCB 139/5, 15 overs (Watson 13, Binny 3), need 69 runs from 30 balls
11:23: Stuart Binny joins Watson in the middle, and RCB have a tough job at hand now. Two runs after the wicket. RCB 130/5, 14 overs (Watson 6, Binny 1), need 76 runs from 36 balls
11:20: Bipul with his left-arm spin, and Baby scores his first run of IPL 2017. Watson waits on the backfoot, the ball does not rise much and he manges to get down quickly for a single. Baby is gone as he top edges the ball. WICKET. RCB 128/5
11:16: Rashid finishes his over with a dot ball, beats Watson outside the off stump as he gets some decent purchase from the pitch too. RCB 126/4, 13 overs (Watson 4, Baby 0), need 82 runs from 42 balls
11:14: Rashid Khan into the attack. Three runs from the first two balls. This is tight stuff from the Afghanistani, who is bowling well within himself, but he bowls a full toss, and Head makes sure that he gets hold of that soft ball, one bounce four. Rashid bounces back strongly, takes his second wicket as Head goes for slog sweep, but top edges the ball for an easy catch to Yuvraj. WICKET. RCB 126/4
11:08: Watson walks into the middle. He needs to shine now. Watson opens his account with a shot in the off-side. Head keeps strike, takes single in the last ball. RCB 118/3, 12 overs (Head 21, Watson 1), need 90 runs from 48 balls
11:05: Two balls and two runs from the first two balls, and this is good so far for SRH and Henriques. Head takes another single in the next ball. Jadhav, while going for a couple, loses his wicket as Cutting runs out the batsmen from the deep.WICKET. This is brilliant stuff from the Australian. RCB 116/3.
11:01: Nehra to Head, who just clips the ball in the leg side. It was a full toss. Head should have scored more than just a single, considering Nehra does not bowl much freebies. Another same ball, and just one run. I feel Nehra is lucky. Jadhav is looking ominous, just flicks Nehra for a boundary in the vacant mid-wicket area, and next follows with another boundary, deft touch above the short-fine fielder. This is cheeky batting. 13 runs from the over. RCB 111/2, 11 overs (Head 21, Jadhav 29), need 97 runs from 54 balls
10:57: Full toss, too high, above the hip line, and it is a no-ball as well. FREE HIT, and Head makes full use of it, strikes it straight down the ground, four runs. This left-hander, who has always been impressive in the BIg Bash, will need to shine in IPL too. Slower ball from Henriques and Head makes not contact. Jadhav comes down the track, and hits another four straight down the ground. RCB 98/2, 10 overs (Head 19, Jadhav 19)
10:50: Cutting to Head - one run, flicked by the left-hander. Cutting has been bowling quite well, mixing his deliveries smartly. Jadhav loves to play the pull short, and he brings that weapon out, to hit a six, ends the over with a quick single. RCB 85/2, 9 overs (Head 13, Jadhav 13)
10:45: Head strikes the ball in the off side, that was some confident drive from the Australian for four runs. Head has been middling the ball since he came, seems to be in good form. Jadhav opens his account with a wristy flick, and pulls a short ball for a boundary. RCB 74/2, 8 overs (Head 11, Jadhav 5)
10:40: Three balls, after Gayle's dismissal, and just one run from the over. RCB 61/2, 7 overs (Head 3, Jadhav 0)
10:38: Spin from both ends as Hooda starts the seventh over. Gayle welcomes him, comes down the track, makes it into a full toss to hit a six. He again goes for a big shot, but Warner catches it in the deep. GAYLE OUT. RCB 60/2
10:35: Travis Head starts with a couple. RCB 54/1, 6 overs (Gayle 26, Head 2)
10:34: Rashid Khan, who is the first player from Afghanistan to play in IPL comes on, and is driven for four in the second ball by Mandeep. The leggie takes his first IPL wicket as Mandeep plays on to the wicket. RCB 52/1
10:30: Ben Cutting bowls it short to Gayle, who goes for a massive shot, misses it completely in the second ball of the over. Two dot balls, and another dot, making it three. Gayle will go for a big shot, he does, but it is too wide. Gayle is trying too hard, and is getting beaten easily. Gayle finally makes contact to score four runs. RCB 48/0, 5 overs (Gayle 26, Mandeep 20)
10:25: Gayle with another six, straight down the ground off Bhuvi. The left-hander is looking dangerous, adds another couple. Despite that six, Bhuvi has been spot on with his line and length. Mandeep splits the gap open for a boundary in the leg side. RCB 43/0, 4 overs (Gayle 22, Mandeep 20)
10:20: Nehra beats Gayle, who turns the ball away for a boundary in the second ball. Again short, he rocks back onto the backfoot, but finds the fielder in the mid-wicket area. Mandeep is reading Nehra brilliantly and hits another four off the pacer. Gayle hits his first six of IPL 2017, and that had both height and enough distance too. RCB 28/0, 3 overs (Gayle 13, Mandeep 15)
10:15: Bhuvneshwar Kumar with the second over of the match. Gayle goes for a booming drive, and he does not make contact. Gayle manages to rotate the strike. Three balls and just one run. It is quality stuff from the Indian pacer. Just one run. RCB 12/0, 2 overs (Gayle 2, Mandeep 10)
10:12: Ashish Nehra to Gayle, who is squared, somewhat, but the big left-hander starts with a single. Mandeep Singh on strike now, and Nehra bowls a dot. It will not be easy to get Nehra away. Two runs to open Mandeep's account, and he hits a wonderful four in the mid-wicket boundary, one bounce four. The right-hander steers the ball past point for his seocnd four. Good start. 11 runs from first over. RCB 11/0, 1 over (Gayle 1, Mandeep 10)
Players from both teams are there in the middle.
Opener Chris Gayle will play an important role if RCB are to cross the finish line in this encounter. Besides Gayle, other batsmen also have to contribute with the willow. RCB have the ammunitions, but can they chase down above 200 runs in 120 balls. Mind you, they are without Kohli and De Villiers.
See you in a while. RCB need 208 runs to win.
9:51: Watson with the final over. Cutting edges the ball to third man for one run. Wide and full from Watson, and Hooda makes contact for a single. What a shot from Cutting, who gets down to his knees, and hits Watson for a wonderful six. Mind you, that was wide from Watson. Cutting takes two runs to make it past 200 runs. SRH will be pleased. Two balls left, and the last ball is hit for a massive six for SRH to score 207 runs. SRH 207/4, 20 overs (Hooda 16, Cutting 16)
9:47: Cutting walks to bat. 12 from the 19th over. SRH 191/4, 19 overs (Hooda 15, Cutting 1)
9:45: Mills bowls a slower bouncer, and Hooda has to wait ages for the ball to arrive, and finally hits it for a single. Fine leg up, and Yuvraj hits it past the short-fine fielder for four runs. Mills' slower ball fails to impress Yuvraj, who desposits the ball into the crowd for a huge six. This is special. Yuvi is BOWLED, though late, but RCB had to dismiss him. SRH 190/4
9:37: Choudhary to Hooda, who starts the over with a maximum. Chahal in fact tipped the ball over the ropes for a six. RCB fielders have been poor so far on the field. Now, Yuvi is back on strike. Two side balls on a trot from the seamer, who is under pressure. Yuvraj completes his half-century with a square drive four, uppish shot it was. SRH 179/3, 18 overs (Yuvraj 52, Hooda 14)
9:33: Hooda gives the strike to Yuvi, who is scoring runs freely, but also living dangerously. Mills beats Yuvraj outside the off stick. Yuvi is dealing in boundaries, brings his favourite pull shot out, and it results in one bounce four. Two slowers balls on a trot, and that is Mills for you. His variations are wonderful. Another slower one, and one run. SRH 162/3, 17 overs (Yuvraj 47, Hooda 4)
9:29: In an innings, where pacers have struggled to contain the SRH batsmen, the leggie has been in fine form. Yuvraj, who has looked in great knick, will hold the key for the home team now. The left-hander miscues a shot, but lands safely inside the 30 yards circle. Hooda opens his account with a single. Yuvraj just plays an amazing shot, and a brilliant diving effort by Mandeep, who saves a six. SRH 155/3, 16 overs (Yuvraj 42, Hooda 2)
9:21: Can Chahal stop the run flow? He dismisses Henriques, who is caught in the boundary line. SRH 151/3. 15.2 overs.
9:20: Henriques starts with a boundary, and Yuvraj is enjoying his time in the middle, hits another six. He is flourishing. He goes for another big shot, but hits it straight to the feilder. Henriques hits another maximum. This is going well for SRH, who should score 200-plus. SRH 151/2, 15 overs (Henriques 52, Yuvraj 40)
9:15: Watson is hit for another boundary by Yuvraj, who goes for another shot, edges the ball to third man. Good batting from Henriques, who sensing Yuvraj in great form takes a single. What next from Yuvi? The SRH batsman, hmmmm, takes a single, though he was shaping for a big shot. SRH 132/2, 14 overs (Henriques 40, Yuvraj 33)
9:10: Yuvraj is looking in brilliant touch. 14 runs from first three balls. 4, 6, 4. Among all of them it was the six, straight down the ground, which stood the most, after the first ball was inside edged for a four. The third ball was pulled in the mid-wicket fence. Yuvraj is playing some positive cricket. Great signs for Hyderabad. Yuvraj is dropped in the boundary line. It could prove to be costly. SRH 124/2, 13 overs (Henriques 38, Yuvraj 27)
9:05: Aravind to Henriques, who takes a single in the first ball. Yuvi also runs the ball to third man, one run. Again the same region, as Henriques goes for a square cut, but under edges the ball to the area. YUVRAJ just picks the ball in the leg side for a four. SRH 106/2, 12 overs (Henriques 36, Yuvraj 10)
9pm: Yuvraj has come to bat in the middle. Henriques is on strike, and he takes a single to give Yuvi the strike and the left-hander starts with a couple, again two runs in the third man region. SRH 98/2, 11 overs (Yuvraj 4, Henriques 36)
8:58: Stuart Binny drags the ball short, and Henriques cannot find the ropes, just one run. Smart batting from Shikhar, who sweeps Binny for a boundary. The left-hander goes for a big shot, but does not strike well, and is easily caught in the deep by Sachin Baby. SHIKHAR OUT. SRH 93/2, 10.3 overs
8:54: Wicket-taker Aniket Choudhary back into the attack. Shikhar punches the bowler for a single. The opener is lukcy as he top-edges the ball into no man's land. Choudhary is bowling well, as he just concedes just four runs and nearly a wicket. SRH 88/1, 10 overs (Shikhar 36, Henriques 34)
8:45: Shikhar comes down the track, and Chahal bowls it wide. The left-hander just manages to hit it over, just over Watson, for two runs. That was close. This time it is cross bat shot from Shikhar and one run in mid-wicket area. Couple from Henriques, who hits it wide of the point fielder. THe Australian pressurises the fielder, who misfield in the deep to allow another two runs. SRH 84/1, 9 overs (Shikhar 34, Henriques 32)
SRH have started well and the two players in the middle now look in good form.
8:41: Travis Head into the attack, and Shikhar milks the Australian for a single. Henriques also does the same. Gigantic from Henriques, who comes down the track to hit a huge six. Ah, the sound from that bat. SRH 75/1, 8 overs (Shikhar 30, Henriques 27)
8:38: Shikhar seems to have got his mojo back. The left hander pulls Chahal in the leg side, only single, though. Henriques gives back the strike to in-form Shikhar, who runs in an overthrow. Are the RCB cracking under pressure? Good over from Chahal, only five runs. SRH 64/1, 7 overs (Shikhar 27, Henriques 19)
8:35: Now it is Watson into the attack, and he drags the ball short. Shikhar hits a four in the leg side, and the left-hander hits a wonderful straight drive for another boundary. Watson comes back strong, bowls a yorker. Shikhar is moving on as he drives through the covers for another four. Watson is helpless as he hits the fourth four of the over. 17 runs from the over. SRH 59/1, 6 overs (Shikhar 24, Henriques 17)
8:30: Aravind replaces Mills, and the pacer starts well, two runs from first two balls. The left-hander comes down the track, and goes for a big shot, does not strike clean in the middle, but scampers for a single. Now, Henriques plays an aerial shot, two runs. The Australian hits a boundary from a short ball. SRH 42/1, 5 overs (Shikhar 7, Henriques 17)
8:25: Spin introduced early on as Chahal gets the bright white ball. Henriques takes a single. Wonderful bowling, one run from the first three balls. Shikhar rotates the strike, flicks in the leg side for another single. Henriques wanted to comeback for a couple the next ball, but Shikhar sends him back. LUCKY ESCAPE. SRH 33/1, 4 overs (Shikhar 5, Henriques 10)
8:21: Shikhar glides the ball for a single to give Henriques the strike and the Australian plays two dot balls. Good bowling from Mills. Flick from Henriques for three runs. Shikhar gets a short ball from the pacer, who is lucky to be hit for one run only. SRH 29/1, 3 overs (Shikhar 3, Henriques 8)
8:16: Moises Henriques replaces Warner. He hits the second ball to the boundary. That was some crisp shot. SRH 23/1, 2 overs (Shikhar 1, Henriques 4)
8:13: Shikhar opens his IPL 2017 account with a single. HELLO!!! Choudhary is greeted to the IPL with a boundary. It was an uppish drive to the fence. The left-arm pacer has bowled a no-ball, and it is free hot to Warner, who smashes the first six of IPL 2017. Warner provides an easy catch at backward point to Mandeep Singh. BIG WICKET. SRH 19/1
8:09: Tymal, in his first IPL match, to Warner. Tymal known for his pace and Warner for his aggression. Can it get any better? First ball - Warner plays a dot ball. Next, there is some confusion in the middle as Warner wanted a single as he hit it in the leg side, but Shikhar sends him back. Warner gets off the mark with a boundary in the off-side. That was some strong punch from the Australian, who uses Mills' pace. Mills bowls a wide down the leg side. SRH 7/0, 1 over (Warner 4, Shikhar 0)
8:02: The RCB players are on the field. Warner and Shikhar are ready as well. Here we go........and the stadium is full. WHAT A SPECTACLE!!!!!
7:55: One look at SRH and RCB playing eleven, and with the hosts batting first, Warner and Shikhar Dhawan need to start well. They do not have world-class players in the middle order, besides Yuvraj Singh.
It will be interesting to see how English pacer Tymal Mills performs in his IPL debut for SRH.
7:47: Here is the starting XI of both teams. Which team looks strong?
SRH: David Warner (C), Shikhar Dhawan, Moises Henriques, Yuvraj Singh, Deepak Hooda, Naman Ojha, Ben Cutting, Bipul Sharma, Rashid Khan, Bhuvneshwar Kumar, Ashish Nehra.
RCB: Chris Gayle, Shane Watson (C), Mandeep Singh, Travis Head, Kedar Jadhav, Sachin Baby, Sreenath Aravind, Stuart Binny, Yuzvendra Chahal, Tymal Mills, Aniket Choudhary.
7:35: Stand-in captain for RCB Shane Watson and SRH skipper David Warner are there in the middle for the toss. RCB won the toss, and will bowl first. Warner would have done the same had he won the toss, he says.
NOTE: Aghanistan player Rashid Khan will make his IPL debut for SRH. It is special moment for the nation.
7:30: Thirty minutes remain for the start of the match, and we at IBT India have done some comprehensive preview of all the eight teams.
Team-wise previews: KKR | RCB | SRH | MI | DD | RPS | KXIP | GL
7:21: Enough of non-cricket talks, lets get into the groove for the ultimate action as SRH and RCB are getting ready for the mega contest.
7:20: If you are interested to know about the other opening ceremonies, here it is.
April 6: RPS vs MI – Riteish Deshmukh un Pune

April 7: GL vs KKR – Tiger Shroff in Rajkot

April 8: KXIP vs RPS – To be confirmed for Indore

April 8: RCB vs DD – TBC for Bengaluru

April 9: MI vs KKR - TBC for Mumbai

April 13: KKR vs KXIP – Shraddha Kapoor and Monali Thakur in Kolkata

April 15: DD vs KXIP – Parineeti Chopra in Delhi
7:15: So, Amy Jackson is rocking the stage, showing her dancing moves in a series of hit songs from past and present.
7:09: Royal Challengers Bangalore skipper Virat Kohli, who will miss the first few matches in IPL 2017, and Sunrisers Hyderabad captain David Warner are on the stage now, and the Australian is asked to hand Kohli a memorabilia, which 'upholds the spirit of cricket'.
6:52: All the legends talk about how IPL has evolved over the years, as we head into the tenth edition. Ironically, IPL did not exist when they were in their prime. Tendulkar, Ganguly, Laxman and Sehwag were also felicitated by the BCCI.
6:47: There is Ravi Shastri, with some blah, blah and then he introduces legends of India cricket including Sachin Tendulkar, Sourav Ganguly, VVS Laxman and Virender Sehwag. They take a lap around the ground on a car, mini car, whatever you call that.
6:39: There is a certain cricket flavour in the first performance with the artists singing 'Chale Chalo Chale Chalo' from the movie Lagaan, one of the finest bollywood film on cricket ever.
6:35: The opening ceremony has started, and the atmosphere looks brilliant at the venue, though some seats are yet to be filled.
6:25: Few minutes before the big performers in the opening ceremony get the ball rolling in Hyderabad, here is IPL 2017 anthem for you. #10SaalAapkeNaam
6:13: Let us stay on the same topic - opening ceremony. We will talk about the 'actual event' once the dancing and all are done. IPL 2017, being the tenth edition, will include eight different ceremonies, one each in all the home cities including Delhi, Kolkata, Hyderabad, Gujarat, Mumbai, Pune, Bengaluru and Indore.
Personally, one ceremony is enough. But, hey, we are talking about the IPL. There has to be a different feel to it.
6pm: Before the players take centrestage, there is this usual opening ceremony, which for a change is expected to be short and sweet. I have heard that the ceremony is set to last for 24 minutes, starting at 6:30 pm IST.
People are gradually pouring in. No one wants to miss the double fun - opening ceremony and later the match.
The IPL is back, and we are into the tenth season of the competition, which has been hugely successful. The wait is over for IPL 2017, as eight participating teams are set to entertain cricket fans with some wonderful cricket, which will last for more than a month.
Though it might be too long (not for ardent cricket lovers), IPL always manages to grab worldwide attention. No wonder, it is one of the biggest sporting events in the world.
Welcome to the live coverage of the International Business Times, India (@ibtimes_india) live blog coverage of the opening match, featuring Sunrisers Hyderabad and Royal Challengers Bangalore. I, Ashim Sunam (@ashim_sport ), will bring you all the happenings from the match, which should be a cracker.