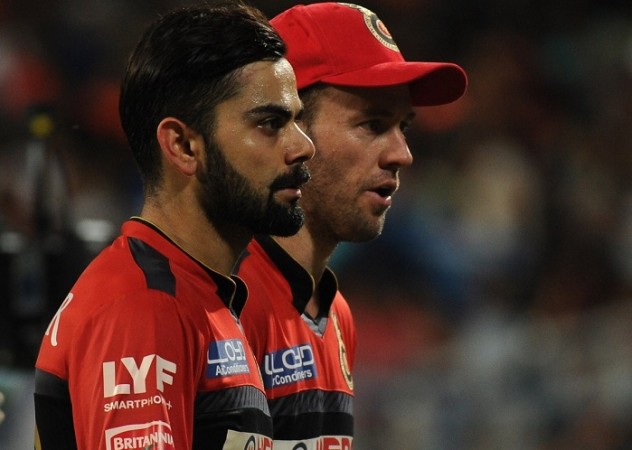 An injury crisis already building, the Royal Challengers Bangalore will hope their season doesn't get derailed even before it has begun. Still looking for that elusive title, RCB will know everything will need to fall into place for them to have another crack at the championship, in IPL 2017.
Also read: Injury rules KL Rahul out of IPL 2017
When you look at the squad, you will struggle to find a more star-studded outfit than RCB. In Virat Kohli, Chris Gayle and AB De Villiers, they have three of the best batsmen in this format, while their bowling is pretty good as well, especially after all the investments that were made during the IPL 2017 auction.
Much will depend on how well everyone recovers and copes with the punishing schedule, and, most importantly, how well they hold their nerve in the big games – RCB have already lost too many finals, surely they cannot suffer more heartbreak in that department.
Here is a look at the Royal Challengers Bangalore team for their season – their squad, players, captain, auction buys and prediction for IPL 2017.
How did last season go?
It did not begin too well as the slow start syndrome struck RCB again. But then, they found one win and that turned into two and then it just kept rolling on and on and quickly enough, RCB eased into the playoffs.
In those playoffs they zoomed into the final, where they fell short in the final hurdle, with the Sunrisers Hyderabad, courtesy an inspired David Warner, clinching the title.
Who are the new players coming in? Any interesting buys during the IPL 2017 player auction?
RCB only bought five players at the auction, but then that was to be expected – they did not have a really large purse and most of their bases were covered.
What was needed, though, was a strong fast bowler after Mitchell Starc decided to pull out of IPL 2017 just before the auction was held. As a result, they went all out for the England paceman Tymal Mills, getting the left-armer for Rs 12 crore.
Another fast bowler in Aniket Choudhary was taken for Rs 2 crore, while the IPL 2016 auction's golden boy, Pawan Negi came in for Rs 1 crore.
Billy Stanlake, the Australia fast bowler, was also bought for a could-be-a-really-good-investment Rs 30 lakh, while all-rounder Praveen Dubey was snatched for Rs 10 lakh.
Much of the pressure will be on Mills, who will need to live up to the price tag and also fill the large shoes of Starc.
What about the overseas players from last season? Who stands out and must perform?
They don't make them much bigger than De Villiers and Gayle, two players who have just as much of a following in India as some of the most popular Indian cricketers. On their day, they are match-winners on their own and with injuries hitting RCB, they will need more of those days to come to the fore.
Shane Watson was brilliant for RCB last season, showing his real worth with the ball. And while he wasn't that great with the bat, Watson will be key for RCB again.
There is also Travis Head, who can smash a few sixes and take a couple of wickets if needed. Adam Milne is the other overseas fast bowling alternative, with Tabraiz Shamsi and Samuel Badree providing the spin options.
And the Indian players?
KL Rahul is out for the entire season, and Virat Kohli will mist the first few weeks. Much will depend on how long Kohli will be out, because it does put extra pressure on De Villiers and Gayle to perform.
However, what the injuries also mean is it opens up chances for the likes of Sarfaraz Khan, Mandeep Singh and Sachin Baby. Kedar Jadhav, after finally cracking the India code, will be expected to step up in the absence of Rahul and Kohli, and will probably need to don the wicketkeeping gloves as well.
In the bowling, Yuzvendra Chahal will, again, be a really important member of the squad.
What does the entire squad look like?
Much will depend on the superstars, but then that can be said of most teams. How long Kohli will be out will also play a major part, but RCB do seem to have most bases covered.
Squad: Indians: Virat Kohli (C), S Aravind, Avesh Khan, Stuart Binny, Kedar Jadhav, Yuzvendra Chahal, Aniket Choudhary, Praveen Dubey, Iqbal Abdulla, Sachin Baby, Sarfaraz Khan, Mandeep Singh, Pawan Negi, Harshal Patel, KL Rahul (out injured).

Overseas: AB De Villiers, Chris Gayle, Shane Watson, Samuel Badree, Travis Head, Tymal Mills, Adam Milne, Tabraiz Shamsi, Billy Stanlake, Shane Watson.

Head coach: Daniel Vettori.
When is their opening match?
The first game of the IPL 2017 season – against the Sunrisers Hyderabad in Hyderabad on Wednesday, April 5.
What can we expect from RCB this season?
More of the same – a lot of runs, a lot of excitement, a lot of can't-believe-they-threw-that-away games as well. At the end of the regular season, however, they should be good enough to finish in the top four.
And from there, it is about showing that winning mentality when it matters most. RCB have struggled with that in the past, but this could be the season when that finally changes.