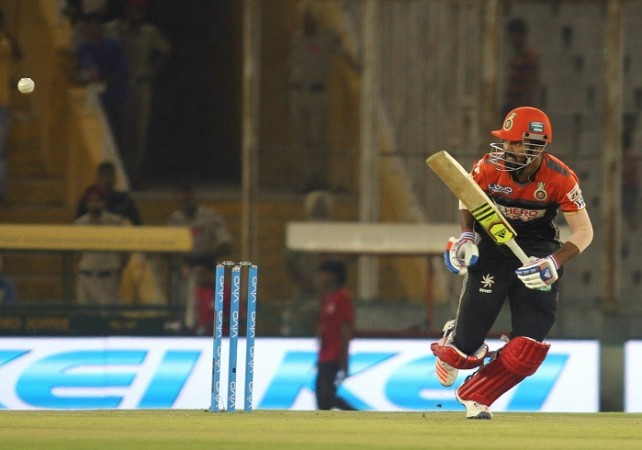 As if losing Virat Kohli isn't bad enough, the Royal Challengers Bangalore might have to do without another India regular in their team, with KL Rahul set to miss the entire IPL 2017 season through injury.
How will RCB cope without Kohli?
Kohli is likely to be ruled out for a couple of weeks, if not more, as he recovers from the shoulder injury suffered in the third Test in Ranchi against Australia, and while that is a big enough blow, RCB would have been satisfied with the fact that they still have the likes of AB De Villiers, Chris Gayle and Rahul to score the bulk of the runs in the skipper's absence.
However, now that hope has been thrown out of the window, with Rahul reportedly ready to undergo surgery to correct a long-standing shoulder problem.
According to a report in the Times of India, Rahul is set to fly out to London next week to have the surgery and that could rule him out of the entire IPL.
Nothing has been confirmed by the RCB yet, and it was only Thursday evening that Daniel Vettori, while speaking to the press, was talking about looking forward to having Rahul back in the team.
"They are accustomed to this," Vettori said when asked about the amount of cricket that established stars play. "KL was a part of the Test squad in the past too. Most important thing is that most of the players are fit."
But, if Rahul isn't fit enough to play in the IPL – and he did say during the Test series that he had shut out a few shots completely due to the shoulder injury – then it will be a big problem for RCB.
Their biggest strength is their batting; indeed, they bank on scoring runs, runs and more runs at the Chinnaswamy Stadium, and not having two of their best Indian players for the start of the IPL 2017 campaign will be a big blow for the Royal Challengers Bangalore.
RCB are also notoriously slow starters, and it will be interesting to see if they will be able to find a way to pick up wins without Kohli and Rahul, if he is indeed ruled out for the entire campaign, in the lineup.
Rahul was outstanding for RCB in IPL 2016, averaging over 40 for the season and playing a big role in helping the team to the final, despite seeing his opportunities a little limited due to the likes of Kohli, Gayle and De Villiers batting ahead of him.