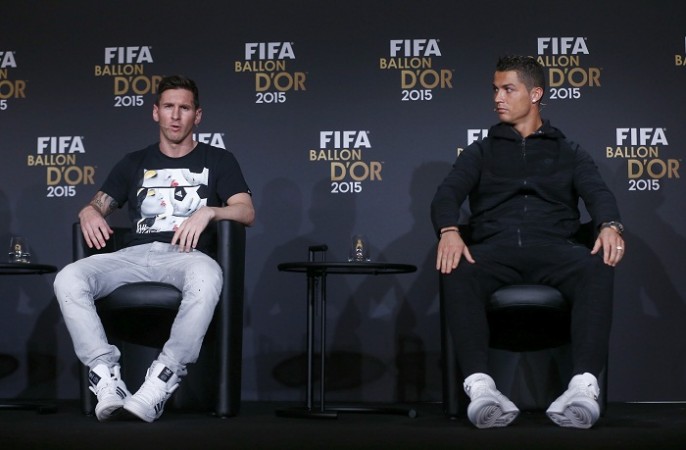 The list of former and present footballers asking Lionel Messi to come out of retirement has been increasing daily. After legends like Brazil's Ronaldo and Argentina's Diego Maradona asked Messi to reconsider his decision, current Real Madrid' star Cristiano Ronaldo has also joined the chorus, hoping to see Messi play for Argentina again.
Football fans and experts around the world were shocked to hear of the sudden retirement of Messi after Argentina lost to Chile in the final of the Copa America 2016.
One may attribute such a heart-breaking result for his retirement from international football, but there could be more than what meets the eye. The Argentina players also seems to have had a fallout with their national body (Argentina Football Association), which also led to Sergio Aguero saying, other players of the national team could also retire after the final.
But, Portugal's Ronaldo has come out in defence of the Barcelona star, stating that Messi is not accustomed to losing, and that should return to the international fold.
Argentina's all-time highest goalscorer, with 55 goals, was in tears after the final, following a penalty shootout loss in which he missed his team's first spotkick.
Ronaldo, despite being a bitter rival in club football in Spain, was hurt seeing such an emotional reaction from Messi, and the Portugal captain feels Argentina need him to play football for many more years.
"He has made a tough decision and people should understand it," Give Me Sport quoted Ronaldo as saying.
"He isn't accustomed to defeats and disappointments, not even finishing second. Missing a penalty doesn't make you a bad player. It hurts to see Messi in tears and I hope he returns to his country one day because they need him."
Messi can take his time to think over his international future as there is no competitive fixture until September, when the World Cup qualifiers start. Football fans around the world will be keen to see him reconsider his decision, and score goals for Argentina, and if possible, win major silverware before he retires.
List of some of the major footballing names who have asked Messi to change his retirement decision
Diego Maradona (Argentina)
Ronaldo (Brazil)
Cristiano Ronaldo (Portugal)
Sergio Romero (Argentina)
Gerard Pique (Spain)