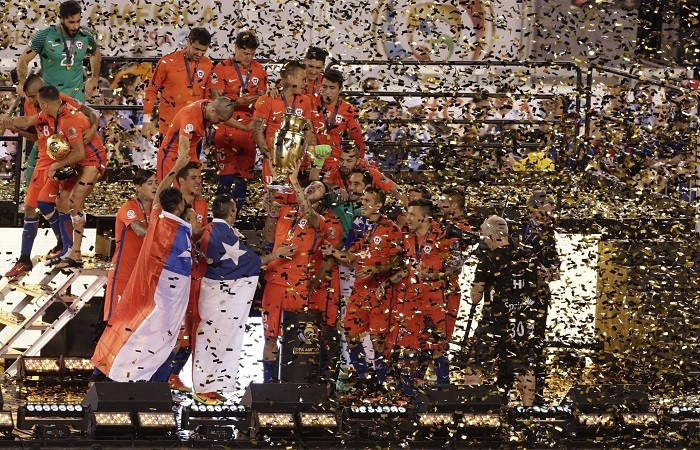 A second consecutive Copa America final between Argentina and Chile, a second consecutive penalty shootout, a second consecutive time when Chile held their nerves better to clinch the title. The defending champions piled further misery on Argentina's hopes of ending their major trophy drought by netting four penalties in a row to take the Copa America Centenario title in dramatic fashion in East Rutherford.
After the match ended 0-0 following the 90 minutes and an extra 30 minutes after that, it all came down to the penalty shootout.
The omens for Chile did not look that great when Arturo Vidal missed his opening penalty, with Sergio Romero making a comfortable save to his left. But it looked worse for Argentina when their talisman Lionel Messi blew his spotkick high, going for power, rather than placement.
The disappointment was clear after that miss, and there would be further misery as the shootout wore on. Before that, though, Chile had to gain some measure of control by taking their next penalty, and Nicolas Castillo did that, blasting the ball into the net, after sending Romero the wrong way.
Javier Macherano then made it 1-1 with a nice strike, before Charles Aranguiz gave Chile the lead in the penalty shootout again, with a crisp effort. Sergio Aguero, however, would not let Argentina down, with his low shot going past Claudio Bravo's left to make it 2-2 in the shootout.
Jean Beausejour then placed his left-footed effort nicely to Romero's right, before it all went pear-shaped for Argentina. Claudio Bravo sprang like a cat to his right to deny Lucas Biglia, leaving Lucas Silva, the man who came on for Alexis Sanchez, who scored the winning penalty in last year's shootout, to win Chile the Copa America Centenario.
He would make no mistake to send Chile into delirium for a second straight year, and consign Messi's Argentina to their third consecutive major final defeat.
Both teams' ability to create chances in the match and go for that winning goal in normal play and extra time should be marvelled at – and they created plenty of chances too – considering they were each down to ten men, before the first half ended.
Chile were the first ones to go a man down as Marcelo Diaz picked up a second yellow card for obstructing Messi in the 28th minute. A little harsh perhaps, but it would be 10 vs 10 in the 42nd minute when Marcos Rojo was deemed to have used his elbows unnecessarily on Vidal, with the referee showing a straight red card – again a little too harsh.
The match went back and forth from there and there were a fair amount of chances for both teams, with extra time also providing plenty of excitement – one brilliant save from Bravo to deny Aguero, particularly, stood out – but the goal would not come, sending the match into the penalty shootout, where Chile reigned supreme again.