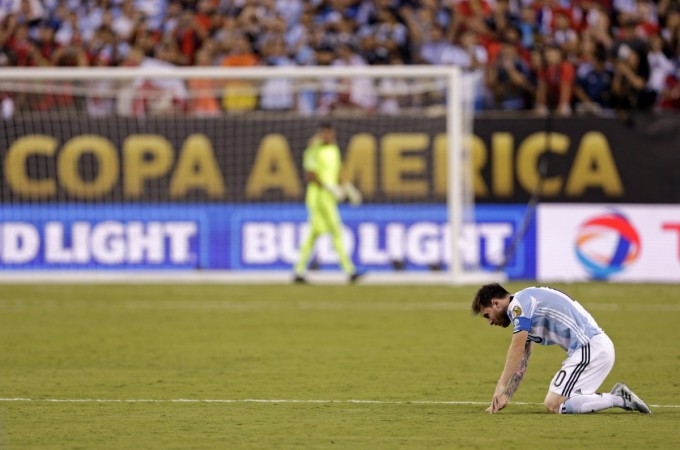 While the world reacts to Lionel Messi's shocking international football retirement, here comes yet another development. Manchester City striker Sergio Aguero is also reportedly on the verge of announcing his retirement from international football.
Barcelona midfielder Javier Mascherano, meanwhile, has also announced his international retirement, reports ESPN. The news only makes the heartbroken Argentina football fans go into further shock with the FIFA World Cup just two years away in Russia.
"Messi probably won't be the only player to leave the national team," the Daily Mail quoted Aguero as saying. "There are various players who are considering quitting. This is the worst I've seen the dressing room. Worse than after the other two finals [the 2014 World Cup and 2015 Copa America]."
In what can be referred to as one of the darkest days in Argentina football in recent times, Messi, Aguero and Mascherano could be joined by Angel di Maria, Gonzalo Higuain, Ezequiel Lavezzi and Lucas Biglia. They might be the other players reportedly hanging up their international boots in days to come.
"ESPN Argentina now confirming Agüero and Mascherano "retirements"... also Lavezzi, Biglia, Higuain, etc. in the coming hours to days. [sic]," tweeted Miami-based sports journalist Juan G. Arango. "There are also rumblings about Ángel Di María leaving Argentina," he added.
It is believed that one of the main reasons for the players taking this drastic decision is due to their alleged fallout with the Argentine Football Association (AFA). Only days back, Messi lashed out at the football association over a flight delay. "What a disaster the AFA are. My god!" the Barcelona superstar posted on Instagram.
FIFA had announced on Friday that they have taken control of the AFA and are electing an emergency panel to manage the affairs of the football association. On Thursday, AFA President Luis Segura was also charged with fraud related to TV broadcasting rights.
"There is a political matter here [at the AFA] that has to do with those in charge of the destiny of Argentine football at the moment and those who aspire to do so," Argentina coach Gerardo Martino was quoted as saying by the ESPN. "None of this has had any impact on us [the team] or can be used as an excuse, because we reached the final, and we should've won it.
"[Messi] is the way any footballer must be when he gets to the final and then loses. Certainly, to lose again is too painful to assume a posture that's any different than that, either on the field or in the dressing room."