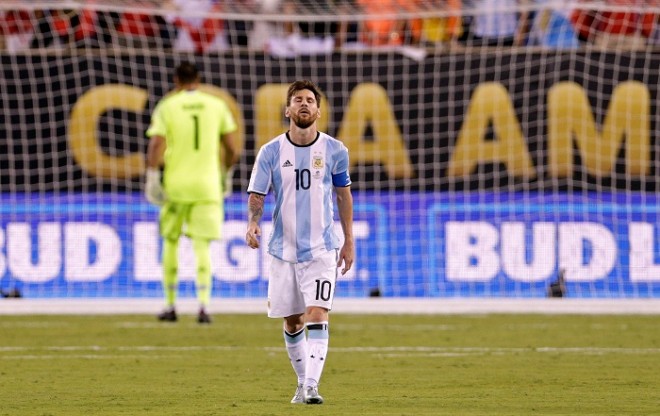 Lionel Messi announced his retirement from international football after Argentina lost to Chile in the Copa America 2016 final at the MetLife Stadium on Monday. This was Argentina's second straight loss in the final of Copa America, both to Chile.
Messi missed a crucial penalty during the shootout against Chile in the final. This was the first time that Messi missed a penalty in a shootout in his career.
Messi made his international debut for Argentina back in 2005. The Barcelona superstar recently became the highest goalscorer for Argentina, with 55 goals, beating Gabriel Batistuta's mark. Messi played 113 games for his nation. However, he will conitnue to play club football for Barcelona. But this decision is a huge loss for all the fans of the legendary forward across the world.
The 29-year-old Argentine forward was seen in tears after he failed to lead his nation to the Copa America 2016 title.
The announcement came right after that, with emotions running high.
"The national team is over for me. It's my decision," Messi was quoted as saying by the BBC.
"It's tough, it's not the time for analysis. In the dressing room I thought that the national team was over, it's not for me (anymore)," Messi said on Twitter.