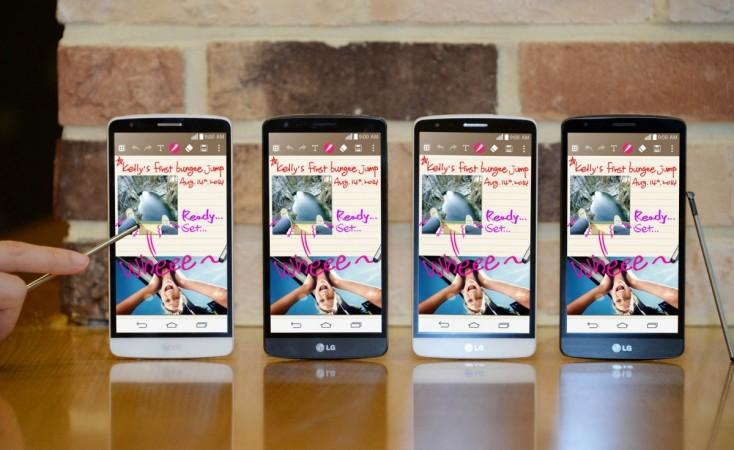 Related
LG is yet to announce the release date of its upcoming flagship device dubbed as the G4 but several features of the phablet have made it to internet. Latest report has suggested that the device would take the recently released Samsung Galaxy Note 4 and other Note series.
The LG G4, which is expected to be released in the first half of 2015, may feature a new stylus called G Pen in the line of Samsung's S-Pen stylus seen in its Note series, according to a report by Phandroid.
The LG G3 did feature a stylus but it was poorly received despite the device doing well in the smartphone market. So, LG fans will expect the purported G Pen stylus to enhance user experience of the G4.
According to a report by The REM, the LG G4 is expected to sport a 5.7 inch HD –IPS +LCD display, have water-resistant build design, and come with 32GB and 64GB variants with 3GB RAM and 4GB RAM respectively, and microSD card up to 128GB. It added that the device would be powered by Qualcomm Snapdragon 801/802/805/808 that clocks at 3GHz, runs on Android 5.0 Lollipop and house a 15 to 17MP main camera and 3 to 4MP front snapper.
However, iKnow Today reported that the LG G4 would sport either a 5.5-inch or even a 5.9-inch display with 2/4K screen resolution and protected by either sapphire crystal glass or Corning Gorilla Glass 4. It went on to claim that the device would be powered by Qualcomm Snapdragon 808 or 810, house a 3500 mAH battery, and have almost bezelless screen.
The website also claimed that the LG G4 could come with a price tag of around $650-$700 and feature LTE Cat 6, NFC, Bluetooth 4.0 and microUSB 3.0 port but nothing is being confirmed as of now.