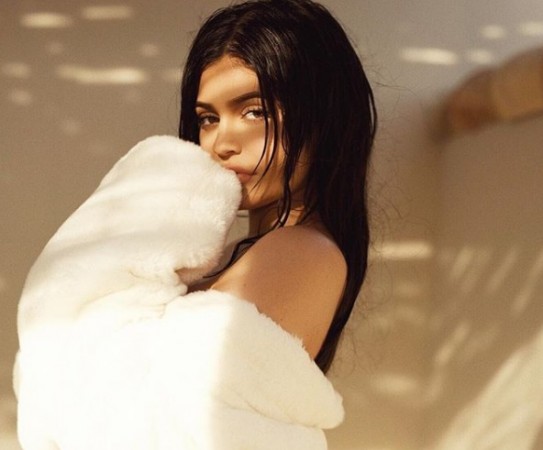 Kylie Jenner finally revealed her daughter's name — Stormi in an Instagram post along with an adorable first glimpse of her baby girl.
Well, speaking of the name, it might sound a bit familiar to you. That's because recently a pornstar named Stormy posed up a storm on the internet.
But, why?
Just a few days ago, In Touch Weekly published a year-old interview of adult film star Stormy Daniels which created a huge outrage in the world because Daniels' interview contains very minute details about her months-long affair with current United States president Donald Trump which allegedly started in Donald Trump's Lake Tahoe hotel suite in 2006 — three months after Trump's wife Melania gave birth to their son Barron.
Also read: This is how Travis Scott reacted when Kylie Jenner's daughter was born
However, we are not sure whether the name of Kylie and her rapper beau Travis Scott's daughter is truly inspired by the aforementioned incident. But Kardashians are well known for naming their kids with unusual names — her famous cousins' names include Reign, North, Saint, Chicago, and Dream.
Some of her fans might be heart-broken as they speculated that the Keeping Up With The Kardashians star would name her daughter Butterfly, Monarch or Mariposa as she released a video that included shots of her holding a butterfly necklace and a butterfly-themed nursery.
Meanwhile, upon the revelation of the name of Stormi, some Twitter users were quick to point out the oddly similar connection.
Take a look at what Twitterati is saying.
Sooooooooo... did Kylie Jenner not watch the news at all. The name Stormy Daniels never came up? No? Kay.

— Alexandra Harmes (@ha_alexandra) February 6, 2018
Kylie Jenner names her baby Stormi? Are you kidding me? How cruel is that? Now the child will hear for the rest of her life that her name reminds people of Trump's porn star affair or whether she was named after Stormy Daniels. Kardashians strike again. SMH

— presto123 (@prestoawake123) February 6, 2018
but forreal, naming ur newborn stormi weeks after a pornstar named stormy is in the news for allegedly sleeping with the president shows an unbelievable lack of awareness by kylie jenner lmao like idk, maybe go with baby name 1b if 1a has been tainted in the past month?

— 26_male_nyc (@25_male_nyc) February 6, 2018
So Kylie Jenner named her baby after Trump's porn star mistress - Stormi?

— Luisa Haynes (@wokeluisa) February 6, 2018