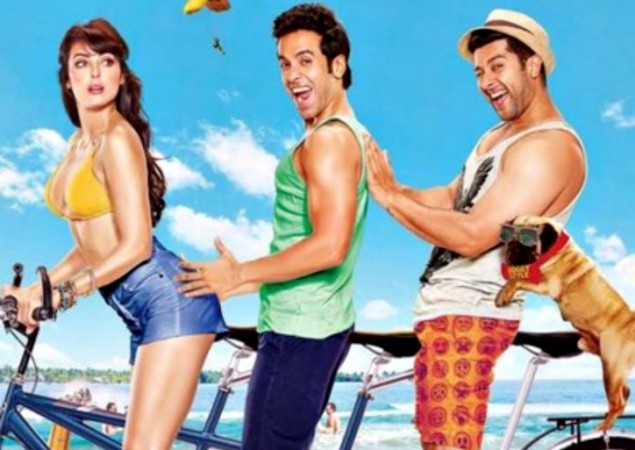 Producer Ekta Kapoor's latest Bollywood movie "Kyaa Kool Hain Hum 3" (KKHH 3), starring Tusshar Kapoor, Aftab Shivdasani and Mandana Karimi, has received mixed reviews from the audience.
Check: KKHH 3 Review | Critics Review | Movie Posters | Music Launch Photos
"Kyaa Kool Hain Hum" is an adult comedy movie, the first instalment of which was released in theatres in 2005. Encouraged by its huge success, Ekta Kapoor and Shobha Kapoor went on to do a sequel to it titled "Kyaa Super Kool Hain Hum" (2012), which was an even bigger success than its first part. Four years after its release, the producers are back with the third instalment in the series of "Kyaa Kool Hain Hum".
The movie revolves around the story of 'sanskari' guy Kanhaiya (Tusshar Kapoor), who is fired from his job. He and his friend Rocky (Aftab Shivdasani) approach their old friend Mickey (Krushna Abhsihek), who offers them jobs in porn film industry in Bangkok. Later, Kanhaiya falls in love with Shalu (Mandana Karimi) after seeing her at a mall. What happens when they decide to get married forms crux of the story.
While some viewers have said that "Kyaa Kool Hain Hum 3" is a full-on-entertainer and Tusshar and Aftab leave you in splits throughout the movie, others say that it is very boring film and lacks the punch dialogues. Here is the live update of what viewers have to say about "Kyaa Kool Hain Hum 3":
Salilacharya ‏@Salilacharya
#KKHH3 is a spoof of a spoof of of a spoof of itself . Aghahahahahahga Im really struggling to sit thru this film ... Grrrrrrrrrrrr #bachao We all luv racy jokes , adult humour , even slapstick adult comedy but #kkhh3 is none of the above , its tacky , disjointed and dwnright not funny mostly
Faisal Patel ‏@AadarshBalak
The actors did a commendable job. And I thoroughly enjoyed watching the movie #KyaaKoolHainHum3 #KyaaKool3Today The movie is outstanding. If you like comedy, then this movie is made for you guys. Those dialogues in the movie packed a punch. It's like I learnt them by heart You just can't miss this one. Leave your brains at home but enjoy the film Non stop comedy Movie!!! Thumbs up
Parag S Solanki ‏@love7x24
If u are looking for a laughter riot then this is movie is for you. Movie is at its best. So much funn It was totally different experience, unique entertainment laughing dhamaka movie Amazing it was #KyaaKool3Today Funny film and I'll say have a little patience in the beginning and bare with it bcoz what's to come is pure laughter. #KyaaKool3Today
Rajiv K Ray ‏@RajivKRay
#KyaaKool3Today wow amazing movie we got here only Entertainment entertainment entertainment
Sanjana ‏@VIRATMyLuv
Kinda Boring Movie.....Wohi Ghise Pite Jokes Mandana Karimi Ko Expressions Kya Hai Pata Hi Nahi Hoga #KKHH3
Nitin Chavan ‏@a20nitin
#KKHH3 is like one of those 3rd class comic acts which you see in award shows. Tries to be funny with age old jokes. Complete Bheja fry.
Gujju Rocks !!! ‏@GujjuRockz
Seriously this is what real entertainment looks like. We can't stop laughing #KyaaKool3Today Buddies this is comedy dat will leave people laughing their hearts out. It will be one special movie #KyaaKool3Today
$@M ‏@SAMTHEBESTEST
Finished watching #KKHH3 If i compare with previous then KKHH1 > KKHH2 > KKHH3 climax was childish. Good entertainer. Full review at evening
Miss Terious™ ‏@DisguisedInVeil
Hilarious dialogues in #KyaaKool3Today are gonna keep you laughing out loud throughout.
Charlie Manish ‏@iManishLohar
If u have loved it's previous parts then i am sure u will love it even more #KyaaKool3Today #KKHH3 An awsome fun movie it is.. I am guilty of liking this comedy flim.. No regrets.. #KyaaKool3Today #KKHH3 #KyaaHilariousHainYeh3 #KyaaKool3Today ... still laughing from starting!! Must go & watch #KKHH3
Saurabh Shetty ‏@IamShetty20
What a movie! After a Jetpack Joyride in the first half, #KKHH3 gave me a Diwali Rocket bonanza! Amazing @AftabShivdasani
Messi Thalal ‏@imthalal13
Finally watched #KyaKoolHainHum3. The terrific plot & concept of this adult movie. Excellent act by @TusshKapoor & @AftabShivdasani.#KKHH3
Jyoti Shah ‏@JKesheri
Awesome movie #KKHH3 i really enjoyed u really rockzzz @TusshKapoor sir u was looking sooo kool nd fab... @Tusshar0033
Usama Shaukat ‏@Usama_Shaukat
#KKHH3 is a sex comedy based on pornstars. A comparison btw Mandana & MissIndia Rochelle. Vulgarity vs grace. #BB9Finale #BB9
GAJENDRA YADAV ‏@gajendra_16
Saw #KKHH3, @shiekhspear shame on you. :) nothing for @zmilap though. He himself knows he is wasting his talent on such films. :)
#KyaaKoolHainHum3 is traumatising on so many levels. My review: https://t.co/2egpPRgZpo @FilmCompanion

— Anupama Chopra (@anupamachopra) January 22, 2016