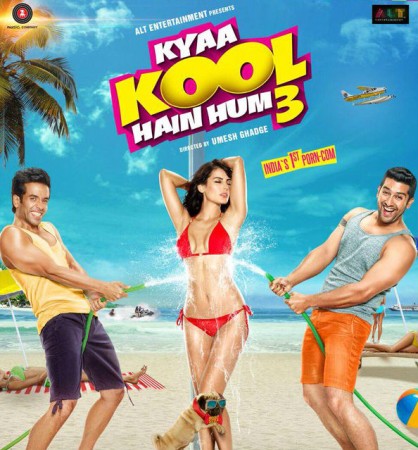 IBTimes India Rating: 1
Tusshar Kapoor, Aftab Shivdasani and Mandana Karimi starrer "Kyaa Kool Hain Hum 3" (KKHH3) hit the screens on Friday, 22 January. There has been a lot of buzz around the adult comedy as #KKHH3Tomorrow was trending on Twitter since a day before its release. However, watching "Kyaa Kool Hain Hum 3" will not at all make you feel "cool" about yourself.
Considering the previous two instalments of the series, "Kyaa Kool Hain Hum 3" was expected to have some good humour, but the movie will leave you highly disappointed. Talking about the plot of the film, Tusshar Kapoor (Kanaiya) and Aftab Shivdasani (Rocky) are close buddies who like to do "everything" together. Tusshar gets kicked out by his father (played by Shakti Kapoor) after he makes some "gross" mistakes. He and Aftab then get a job offer from a friend in Thailand. When the two land at their friend's place, they realise that the friend runs a porn business and he wants them to work for him as porn stars.
Meanwhile, Tusshar comes across Mandana Karimi and falls in love with her. Reluctant to reveal his job details to his girlfriend for obvious reasons, Tusshar creates a fake family, comprising other porn stars. He and his fake family meet Mandana's father to fix their marriage. To know if Mandana and her "sanskari" daddy learn about Tusshar's real work, you have to watch the movie. However, I would suggest you not to waste your money on this horrible movie, and I have strong reasons to back my words.
Produced by Ekta Kapoor's Balaji Telefilms and directed by Umesh Ghadge, "Kyaa Kool Hain Hum 3" is a B-grade adult comedy, with no comedy at all. Termed as the first porn-com of Bollywood, the film is only about girls flaunting their cleavage, making orgasmic sounds followed by sleazy dialogues that fail to create humour. Even stand-up comedian Krushna Abhishek could not showcase his comic skills properly in the film. While most of the actors overacted, the most distasteful parts of the film were Gizele Thakral and Claudia Ciesla (played porn-actresses) making orgasmic sounds every time they appeared on screen. The two actresses made orgasmic expressions even when someone just called their name. Yes, calling just their names also gave them orgasms.
The entire movie has very little to bring even a smile on your face, forget about laughter. And those orgasmic sounds coupled with humourless gross dialogues will just make you feel sick. I felt like cursing my boss for sending me to watch the movie and if you don't want to curse yourself, please do not watch "Kyaa Kool Hain Hum 3".