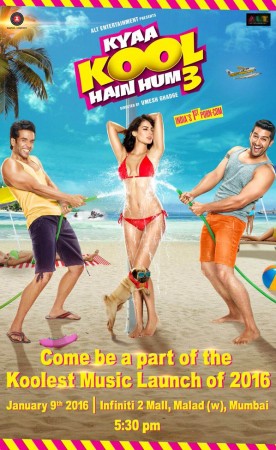 Tusshar Kapoor, Aftab Shivdasani and Mandana Karimi starrer adult comedy "Kyaa Kool Hain Hum 3" has opened to negative reviews.
Directed by Umesh Ghadge, "Kyaa Kool Hain Hum 3" is said to be India's first porn-com. The film, which received "A" certificate from censor board, is the third film in the Kyaa Kool Hain Hum film series.
Tusshar and Riteish Deshmukh played the lead in the first and second instalment, but in the third installment, Aftab has replaced the latter. The adult comedy also features Gizele Thakral, Claudia Ciesla, Krishna Abhishek and Shakti Kapoor in pivotal roles.
Released on 22 January, "Kyaa Kool Hai Hum 3" does not offer much to the viewers in terms of storyline. Critics have slammed the film for its script, actors' performances and screenplay. The film has not received more than two stars from critics.
Read what critics have said about the film:
Surabhi Redkar of Koimoi.com said: "Kyaa Kool Hain Hum 3 is a sex comedy that is typically Bollywood – it objectifies women, has no plot as such and has Tusshar Kapoor in the lead. I'd say no unless you actually enjoy sex comedies. The film is quite cliched when it comes to the story."
Sreeju Sudhakaran of BollywoodLife.com said: "The film takes the sex jokes from the previous films to another level, but that doesn't mean they are great. Throughout the first half, there are only a couple of moments where I barely chuckled. The depictions of the porn parodies of films like Chennai Express, Sholay is actually too below the belt to savour (though the Kick parody did make me smile a bit)."
Shubha Shetty-Saha of Mid-Day said: "There are a few rare scenes where popular Bollywood films are spoofed to fit into porn style and they manage to raise a chuckle or two. But apart from those few scenes, this film is unfunny and unimaginative."