There was a lot of talk about Kuldeep Yadav after he derailed England in the limited-overs series. He found a lot of backing to feature in the Test matches, but then when he did get a game at Lord's, it turned out to be an absolute nightmare for the young man.
Kuldeep was tonked for runs, never looked like exerting any control and subsequently was dropped for the rest of the series and sent back home.
He came back to India, took to training, and found good company in the SG ball, which is very different from the Dukes that he encountered at Lord's.
SG ball gave me confidence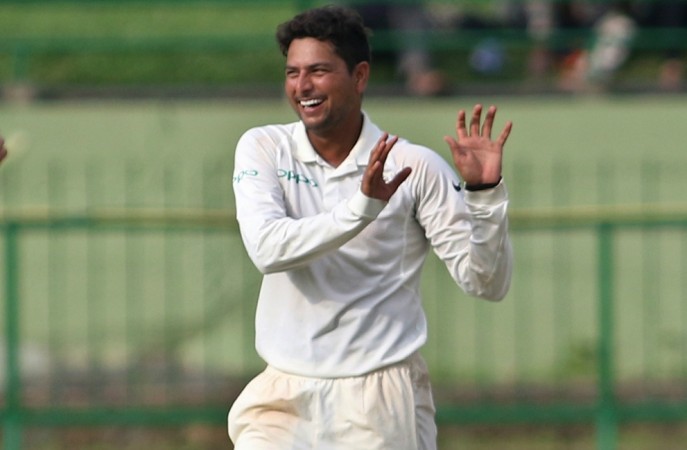 It gave him confidence and after a jittery start against the Windies, he roared back and picked up a five-wicket haul to lead his side to an emphatic win in the first Test match.
"I was finding it very difficult to grip the ball, as the Duke ball was harder than the SG ball. I was trying to hit good length, but you need at least 15 days to adjust to the Duke balls," he said after the match.
He was in the team to take on Australia A back home and had to switch his focus back after a horrendous experience at Lord's.
"I just had a few days to prepare for the matches and I felt I had to make a few minor changes. So I quickly switched my focus to Australia (A)," he said.
"We went to drawing board and worked on a few things regarding my release. Four-five days we bowled almost continuously and kept bowling around the wicket as well as over the wicket," he added and said that his mentor from childhood, Kapil Pandey came to help him.
He did not start entirely promising against West Indies as the batsmen went after him as he kept flighting the ball. Kuldeep said that he needed to mix and match his trajectory and lines to keep the batsmen guessing.
"In the first innings I did not anticipate that they (West Indies batsmen) will attack me so much. They have a lot of power hitters and if you give them too much flight, you could end up leaking runs," he reflected.