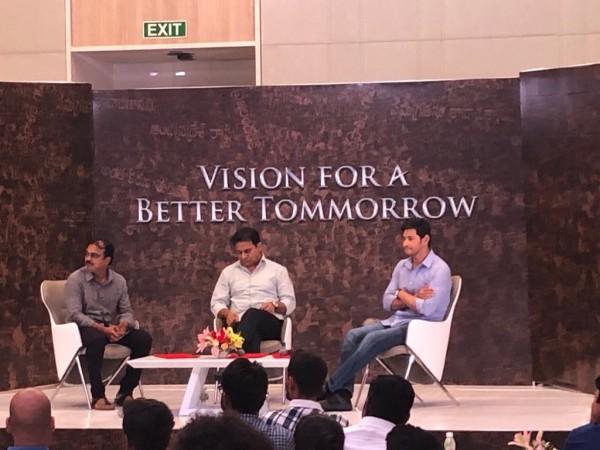 Telangana IT Minister KT Rama Rao aka KTR took some time out of his busy schedule to watch the much-talked-about movie Bharat Ane Nenu and lauded superstar Mahesh Babu and director Koratala Siva for their work.
KTR is one of the young and dynamic politicians in Telangana. The young leader is very active on Twitter.
He watches all big-ticket Telugu movies and makes sure to share his review on Twitter. Many people across the state were curious to know his views on Bharat Ane Nenu, which is a political thriller. Some audience were upset with him for not watching it and sharing his review even five days after the release.
Bharat Ane Nenu explores how today's politicians lack accountability in governance and are living up to their promise. KTR managed to watch the movie and he was impressed with it. He also took part in an interactive session with Mahesh Babu and Koratala Siva.
Latter, KTR took to Twitter to talk about it. The IT minister tweeted, "You guys are in for a surprise! Did an interactive session with good friend @urstrulyMahesh and director @sivakoratala on being in public life and the movie 'Bharat Ane Nenu' a movie which I personally enjoyed "
Bharat Ane Nenu has collected over Rs 130 crore gross at the worldwide box office in five days. The movie went on to become the fifth all-time highest grossing Telugu movie. Mahesh Babu, Koratala Siva and other members of the film unit are delighted over the massive response for the film.
Mahesh Babu tweeted on April 21, "Feeling blessed ... Glad I fulfilled the promise of making all of you proud. Thank you @sivakoratala sir for Bharat Ane Nenu. The Success of the film is a victory for all of us and for good cinema above all. Congratulations to my entire team. Thank you everyone for all the love for #BharatAneNenu! ధన్యవాదాలు நன்றி ಧನ್ಯವಾದ നന്ദി"
Koratala Siva tweeted on April 23, "A big thank u to everyone for all the appreciation and applause showered on our #BharatAneNenu. Really overwhelmed with the way u embraced the film. My love and respect to our superstar @urstrulyMahesh for his trust on me. And my sincere thanks to @DVVEnts @Advani_Kiara @prakashraaj @ThisIsDSP @dop007 @DOP_Tirru @ramjowrites @sureshsrajan nd the entire team of #BharatAneNenu for their support in this extraordinary journey."