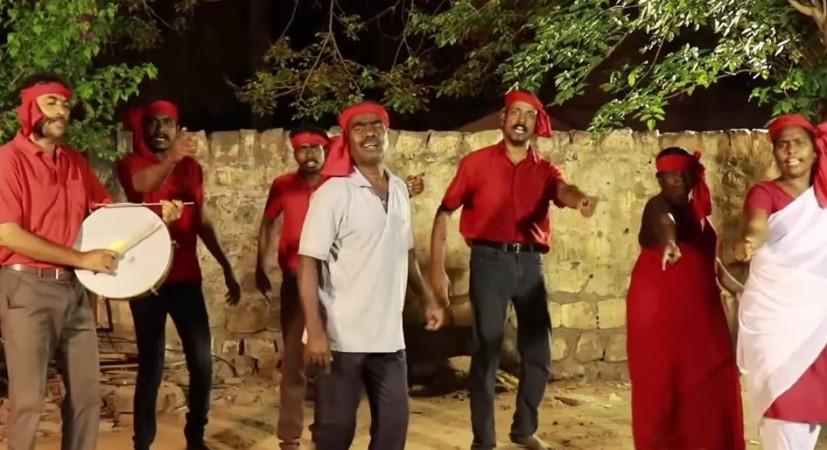 Folk singer Kovan, who had earlier made a controversial song on late J Jayalalithaa and faced sedition charges, has come out with another track, which now targets Prime Minister Narendra Modi and Vishwa Hindu Parishad's Rama Rajya Rath Yatra.
The song slams the Modi's administration and draws the parallel with his rule with Lord Rama's rule. Taking a jibe at the AIADMK, Kovan and others sing that the sandals of Rama were placed at the foot of the throne to rule his kingdom, while Modi's slippers are ruling Tamil Nadu.
Further, the song equates Modi's personal life with the Rama's personal life by claiming that the Prime Minister abandoned his wife Jashoben like Rama did to Sita in Ramayana.
The 4.02-minute song then moves on to Cauvery issue and blames Modi of playing politics and slams Gujarat model of development by accusing that there is no water or schools and belongs to Advani and Ambani while poor Hindus are left with only cow urine to drink.
The song also has visuals of the VHP's yatra and spiritual guru Jaggi Vasudev. In short, the number conveys the end of Modi's rule and his destruction is not far away.
The song has gone viral among Tamils and spreading like wildfire on new-age platforms like WhatsApp. However, it has met with mixed response. While a section has appreciated his work and his concerns, many have reacted sharply for targeting Narendra Modi and Hindus.
Earlier, Kovan, who is the member of Makkal Kalai Ilakkiya Kazhagam, was arrested for using alleged derogatory remarks against AIADMK chief J Jayalalithaa in a song.
Coming to the Rama Rajya Rath Yatra, it entered Tamil Nadu' Madurai a few days ago and the Dravidian parties had slammed the AIADMK for giving permission to hold a rally as it might lead to communal tensions among different communities.