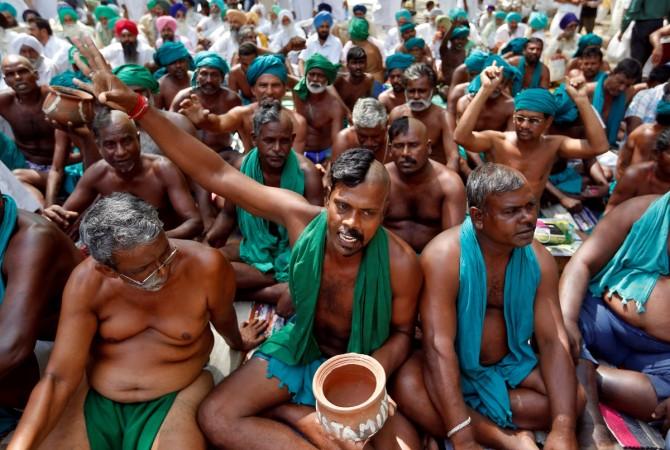 A video wherein a female BJP worker slapped the president of the farmers' association for abusing her at a temple in the Southern state of Tamil Nadu's Thoothukudi district emerged online Friday.
In the video, Ayyakannu, the head of the farmer's association called Desiya Thenidhiya Nathigal Inaippu Vivasayigal Sangam, is seen distributing pamphlets to devotees at the Tiruchendur temple.
The farmers were distributing the pamphlets as part of the 100-day march to create awareness about their hardships.
It is seen in the video that as a woman is about to take a pamphlet from Ayyakannu, a woman named Nellaiyammal and another man wearing black shirt enters the frame.
Nellaiyammal, the district secretary of the BJP women's wing, takes away the pamphlet from the devotee's hand and calls Ayyakannu a fraud.
"Don't take his pamphlet. This Ayyakannu is a fraud," says the DS in the video. She even tells Ayyakannu that pamphlets cannot be given in the temple.
This angered the president of the farmer's association and he started abusing her. Ayyakannu called Nellaiyammal a 'slut', as a result of which she slapped him.
Soon the other members of the farmer's association and the two BJP workers got into a heated argument. Nellaiyammal is also seen removing her slipper and brandishing at the men.
It was only after the temple authorities intervened that the argument ended.
The BJP unit in Tamil Nadu has demanded Ayyakannu's arrest. However, Ayyakannu has denied using cuss words, said a few reports.
Watch the video here:
#WATCH: Heated argument ensued between District Secretary of the BJP's women's wing Nellaiyammal and Tamil Nadu Farmer leader P Ayyakannu outside premises of Sri Subramania Swamy Temple in Thiruchendur when the latter was allegedly distributing pamphlets criticising Central govt. pic.twitter.com/Ze8FJu5FN0

— ANI (@ANI) March 9, 2018
Here's how Twitter reacted:
BJP should stop this kind of cheap publicity activity, who gives the power to rise her hand against farmer. rowdy BJPs

— TAMIL SELVAN (@tamilmmech1995) March 9, 2018
Central govt not even trying to set up cauvery management board now they slap a farmer association leader and after all they want to make it as a sensational news for media coverage #Ayyakannu #AyyakkannuSlapped

— Ramesh (@ramesh0039677) March 9, 2018
Watched the Ayyakannu video. The first abuse from his side is directed against the woman, and he calls her a prostitute. Like really! (Ayyakannu says he didn't use the abuse, someone else did) Whoever used, from the video it does seem like him only), completely deplorable

— Dhanya Rajendran (@dhanyarajendran) March 9, 2018
What heated argument? why can't u elaborate more, the farmer leader called the lady with derogatory remark, isn't it the hurting modesty of women?? Case should be filed against thia farmer leader.

— JoYganesha...:) (@Ganesh0a0spirit) March 9, 2018