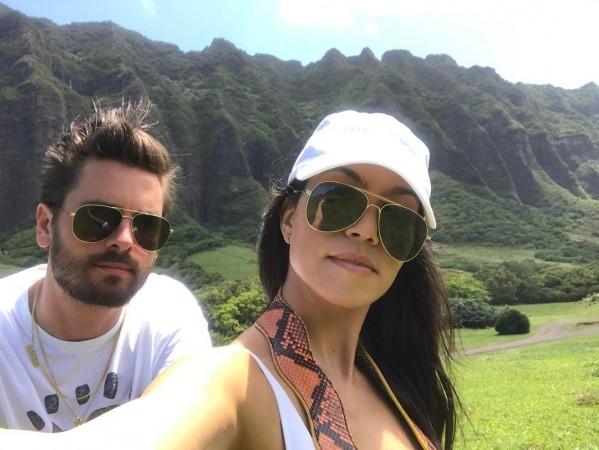 Kourtney Kardashian is firing back shots and they are exactly the kind you expect from the Kardashians. Amidst all the triple baby boom rumours, eldest sister Kourtney is finally opening up and spilling the tea on ex Scott Disick, and it's piping hot
In the latest promotional sneak peek of the upcoming episode of Keeping Up with the Kardashians, we see Kourtney give mama Kris a piece of her mind when the matriarch tries to reason with her about reconciliation with Scott.
Also read: Scott Disick planning to rekindle romance with Kourtney Kardashian?
The preview for the Sunday, October 8, episode will find you laughing and relating to the 38-year-old mother of three, harder than you ever have. Don't be too surprised if you find yourself clapping and cheering for her because, by the looks of it, she seems to have finally seen the light.
It all starts with momager Kris Jenner, 61, reasoning Scott's recent blast at Kourtney for having fun and enjoying her life. "He's jealous because you were having fun, spending time with other people," Kris tells her eldest daughter, referring to Kourt's birthday trip to Mexico, where of course, Lord Disick wasn't allowed to tag along.
"Well, that's really not fair," Kourtney shoots back. "It's just, like, I can't even live my life. I can't even go anywhere. He needs to get a f--king life and leave me alone!" Can't really blame her here though. Full-time mommy to Mason, Penelope and Reign, Kourtney hasn't been very vocal about her frustrations with Scott in the past.
But not anymore, as she continues: "And all he does is try to make everybody else feel bad for him, and try to make me look like the bad guy in the situation when clearly I'm not. You know, from 10 years of this going on."
In what we don't seem to consider a very motherly judgment, Kris seems to side with Scott on this one and continue with her attempts. "Wouldn't you be said if he truly left you alone?" She very tactfully places the question to Kourtney. "You always want what you can't have and when somebody's right there giving you there heart on a platter."
This is where Kourtney snaps and for good measure. "He's not! He's not, though!" fires Kourtney. If he was, that was one thing, [but] he's not. Mom, that's what he makes it seem!"
After over a decade of being together and with multiple rumours about Scott dating other people, it's time for Kourtney to finally speak up. She adds, "He sits there and grovels and feels bad for himself, so if that was his truth, why can't he get it together?"
"I have to handle it when he's out photographed, you know, with a different hooker every day," she quips. This, however, was filmed before Scott and new bae Sophia Richie made themselves Instagram official so we can't be certain if Richie was implied too.
Catch the clip here:
As for more recent reactions, sources had confirmed to Us Weekly that Kourtney finds this affair of Scott and Richie, 19, somewhat strange. "Kourtney thinks this fling with Sofia is a little weird, but nothing shocks her anymore," said the insider.
Neither does it shock us, Kourtney! If only other people shared that kind of patience, because as per the insider, "Kourtney just wants Scott to be his old self. She shares three kids with him, so she'll always want the best for him and will always make sure he's happy."
Keeping Up With the Kardashians airs on E! Sundays at 9 p.m. EST.