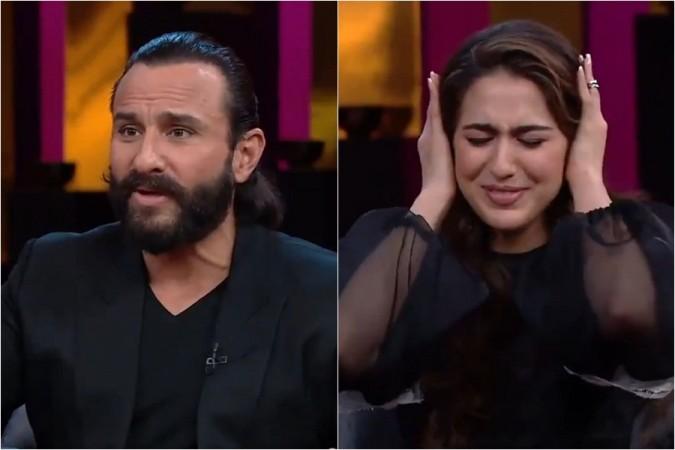 Saif Ali Khan's daughter Sara Ali Khan faced an awkward or rather an embarrassing moment when her father openly talked about his sex life with wife Kareena Kapoor on Karan Johar hosted celebrity chat show Koffee With Karan season 6.
In the latest promo of KWK 6, Saif Ali Khan, in a freewheeling chat with Karan Johar, started discussing his bedroom-life when Karan Johar opined that Kareena has made hitting the gym look quite sexy in Bollywood. The moment KJo threw his opinion, Saif Ali Khan replied to him saying that he gets a close up look at it in the bedroom.
After listening to Saif's cheeky innuendoes, an embarrassed Sara Ali Khan put her hands on her ears to avoid listening more about her father and step mother's sex life.
But Saif didn't stop there. When KJo asked him if he checks her out before she goes, Saif unabashedly replied, "Yes of course, coming and going" which almost made Karan to spit out his coffee.
Furthermore, when Karan asked Saif what were the three things that he would ask Sara's boyfriend, to which the Baazaar actor replied, "Political views, drugs..." Karan then interrupted him and said that money would be a nice question to ask as he would, Saif replied, "Got cash? Take her."
To which his daughter Sara exclaimed, "That sounds so bad. Stop saying it."
Watch the video here: