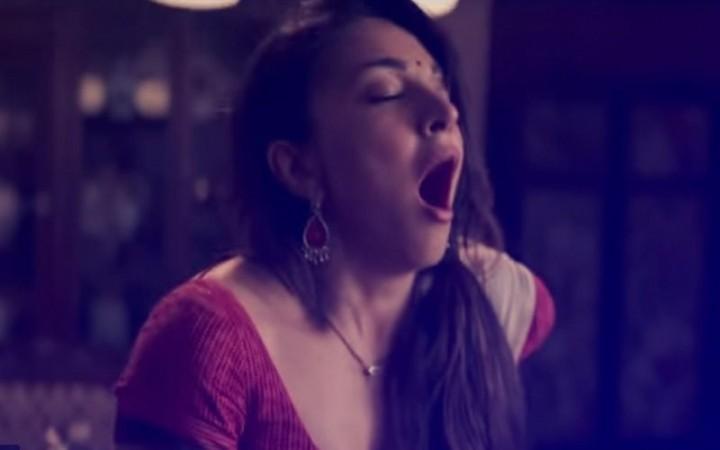 Kiara Advani has been in the news over the past couple of days for her masturbation scene in Lust Stories. While she received flak for the bold scene, Kiara herself now opened up about it.
Kiara, who played a married woman with boring sex life, compared the masturbation scene with kissing scenes and said that it will take time for people to accept such things.
"I feel now it is becoming normal and natural and people are talking about it, eventually they will think, why make a big deal of it? It will take time. Not every person is going to be okay. For instance, kissing scenes were considered a huge deal but not today," The Asian Age quoted the actress as saying.
While many opined that it was normal to masturbate, some found the scene in the movie obscene. Kiara believes that there is nothing wrong in portraying such scenes if done in a proper context.
"Everybody is aware and exposed to and is educated enough. As long as nothing is out of context, then it is fine to show it in films. It is good that everything is being shown instead of forcefully trying to hide it. At the end of the day, lust is a by-product of love," she said.
Kiara also shared the experience of shooting for the particular scene, saying that "it was not awkward".
"We stayed true to the script. It has come out the way it was written. It wasn't awkward while shooting and we are professionals, we knew we are doing our job. Karan (Johar) said don't try to do it in a funny way, try to play it in a realistic way. It is an awkward situation in the film, and I am trying to cover up what has happened. The reality in the scene ends up looking funny," the 25-year-old actress said.
Lust Stories has been directed by KJo, Anurag Kashyap Zoya Akhtar and Dibakar Banerjee. The masturbation scene has gone viral on social media with the title "Dadi galat remote le liya".
The scene shows Kiara's character inserting a vibrator into her private part, but just when she was about to use its remote, she gets called by her in-laws. She then rushes out of her bedroom with the vibrator still inserted, but leaves the remote elsewhere, and starts setting the dinner table.
The situation gets awkward when Granny of the family mistakes the vibrator remote to be TV remote, and starts operating it. Kiara becomes completely oblivious to her surrounding, and starts moaning in front of her confused and shocked in-laws, including her husband.