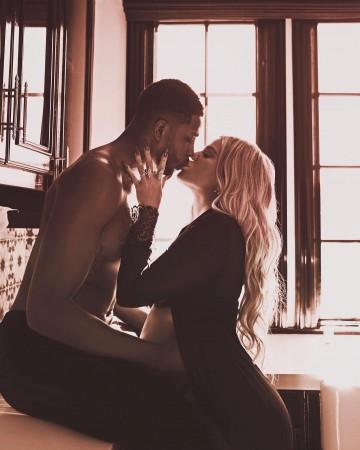 Although Khloe Kardashian is choosing to believe beau Tristan Thompson amid the cheating rumours doing the rounds, the reality star is reportedly is afraid of another pregnancy happening at the present time.
The 34-year-old went through a rough time due to the cheating scandal that made headlines while she was having baby girl, True. A source revealed exclusively to Hollywood Life, "Khloe would love to have another baby right away, but she's really terrified of being pregnant during the NBA season."
The NBA season kicks off on October 16 and Tristan, who plays for the Cleveland Cavaliers, has already headed back to training camp. The source continued, "She can't help but have flashbacks to what she went through with Tristan the last time when he was away on the road. And she really couldn't travel with him that much because of her pregnancy."
Even though Khloe made the move to Ohio right before True's arrival, security camera footage of Tristan making out with one woman and motor-boating another in October while on a night out was leaked just two days before their daughter's birth.
"She would never blame it on her pregnancy, but the reality is things did happen and their relationship kind of fell apart for a while," said the insider. "She worries about getting pregnant again and how it will affect their relationship."
Although the couple appeared to have worked out their issues during a vacation to Mexico, new rumours have sprung up after he was recently photographed leaving Warwick's Club in Los Angeles with friends and two mystery women last month. While it was reported that Khloe chose to believe that her beau was innocent that night, an eye-witness from the night reportedly told Us Weekly,
"Tristan and a girl were chatting and flirting throughout the night. They were very touchy-feely. He had his hand on her butt." Since then, Khloe has posted cryptic messages to her Instagram Story, "Never wish them pain…If they caused you pain, they must have pain inside," said one of the posts.