After two days of intense rescue operations, the body of Lionel Messi's ardent fan from Kerala was recovered from a river on the morning of June 24.
Dinu Alex, 30, who was working as an accountant in a private firm, was found dead in Meenachil river in Arumanoor, a hamlet in the Kottayam district of Kerala, seven kilometres away from his house, according to Mumbai Mirror.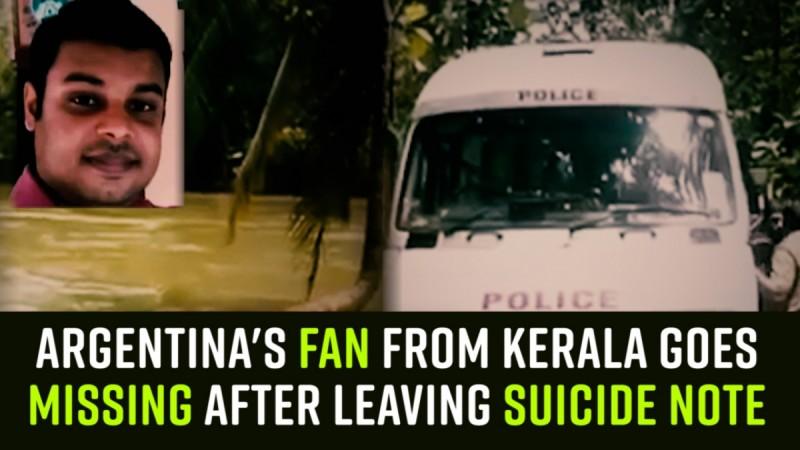 Dinu had left his residence in the wee hours of Friday, soon after his favourite team, the Messi-led Argentina were handed a shocking 3-0 by Croatia in a Group D encounter of FIFA World Cup in Nizhny Novgorod, Russia.
Unable to locate him at his residence, Dinu's parents found a suicide note which led to the suspicions that he might have decided to end his life.
"There is nothing left for me in this life. I am taking a plunge into the depths of death. Nobody is responsible for my death," the note read.
After Dinu's father, KP Alexander, lodged a police complaint, the canine squad reached his house on Friday. The sniffer dogs followed Alex's trial and reached the Meenachil, prompting police to search the river.
Fire and rescue team was roped in but search operations were halted on Friday due to extreme weather conditions in Kottayam.
The fire and rescue team employed six men who braved the strong currents and searched around a 10-kilometre stretch of the river on Saturday, June 23. However, the search operation was once again called off around 6:30 pm IST after they were unable to find anything, according to the Times of India.
Messi's no-show leaves his fans distraught
Dinu had been an obsessive fan of the Barcelona forward and the Argentina captain. His room was reportedly filled with merchandise and posters of Messi.
"Messi, my life is for you, waiting to see you lift the Cup. .. My team is starting its journey, carrying my life. I will do it," another note found in his room had read, The Times of India reported.
The Kerala man bought himself a new Argentina t-shirt in the lead-up to Thursday's match and had told his colleagues that the Albicelste would win and his hero would score.
Argentina's 3-0 defeat on Thursday has put them in danger of early elimination from the quadrennial tournament. Messi's no-show left millions of his fans across the globe disappointed even as coach Jorge Sampaoli had come under severe criticism.
The runners-up from the 2014 edition, who were held to a 1-1 draw by World Cup debutants Iceland last week, need nothing less than a win against Nigeria in their final Group D match to keep their chances of qualifying for the knockouts alive.