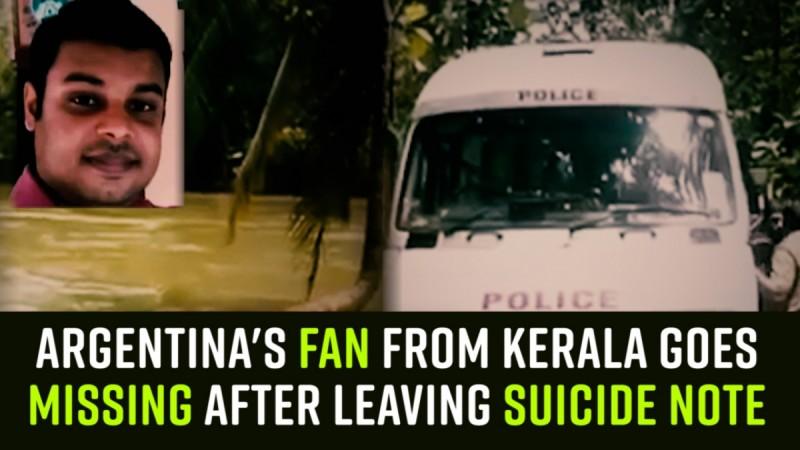 The search for the Messi fan from Kerala, who went missing after Argentina's shock loss against Croatia in the Fifa football World Cup, has entered the second day. Rescue operations were halted on Friday as heavy rains in the Kottayam region of central Kerala led to a swelling up of the Meenachil river.
Meanwhile, a suicide note found from the home of Dinu Alex, 30, showed he might have taken the extreme step.
"There is nothing left for me in this life. I am taking a plunge into the depths of death. Nobody is responsible for my death," the suicide note read.
Other notes found in his room, decked up with Lionel Messi merchandise and posters, showed traces of obsessive craze after the footballer and the Argentina team bordering on personality disorder.
One note read: "Messi, my life is for you, waiting to see you lift the Cup. .. My team is starting its journey, carrying my life. I will do it," the TOI reported.
On Thursday Dinu, an accountant working with a private firm, bought a new Argentina jersey as he prepared to watch the crucial match against Croatia. The result shocked Argentina and Messi fans the world over with the South American team with top football pedigree capitulating against Croatia's golden generation team.
Dinu's parents said they woke up early morning and noticed lights on in his room. He was not to be found. On closer search they found the suicide note and alerted relative and the police.
The police dog squad was brought in and the sniffer dogs took Dinu's trail and stopped on the banks of the Meenachil river. Suspecting suicide, the fire and rescue team launched a search in the waters but the operation was halted due to incessant rains.
Kerala is known for its huge numbers of football fans. The state is almost vertically divided between the fans of Argentina and Brazil.