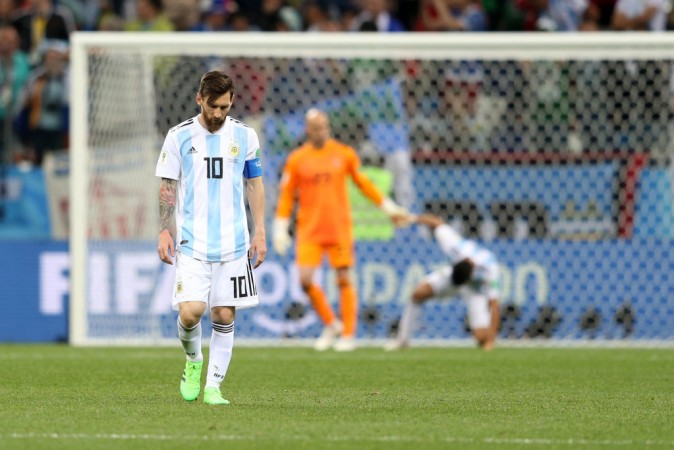 Argentina coach Jorge Sampaoli revealed Lionel Messi's brilliance is being clouded by the struggles of the team and its inability to gel well with the captain.
The 58-year-old tactician, who oversaw Argentina's biggest group stage defeat at a World Cup since 1958 on Thursday in Nizhny Novgorod, also refused to be drawn into the "GOAT" debate involving Messi and his nemesis, Cristiano Ronaldo following contrasting starts to the two players' World Cup campaigns in Russia.
Messi came up with yet another uninspiring show at the international level on Thursday as Argentina were thrashed 3-0 by a ruthless Croatian side. The Barcelona legend had the second-fewest touches (20) for an Argentina player in the first-half.
Messi, who had been crowded out by Iceland defenders in their 1-1 draw last Saturday, was once again cut-off by the Croatian backline, which stayed solid for the most part of the match.
By virtue of the embarrassing defeat, the Albiceleste are now staring at an early exit from the quadrennial tournament.
Argentina's reality clouds Leo's brilliance: Sampaoli
"I think Cristiano Ronaldo is a great player. You can just look at all he has achieved as a player, for his club and for his country," Sampaoli told the press on Thursday.
"Right now we shouldn't compare these two players. I think because of the reality [struggle] of the Argentine squad, it sort of clouds Leo's brilliance. Leo is limited because the team doesn't gel ideally with him as it should. As coaches, we need to realise these things and work accordingly. I am the one that needs to do it."
Shedding light on quite a few failed plans, the Argentine tactician added: "He is our captain, he leads the team. We quite simply couldn't pass to him, we couldn't generate the situation we tend to be able to generate.
"We worked to give Leo the ball but the opponents also prevent him from getting the ball. So, I think, we lost that battle."
Was as dreamy-eyed as any Argentine fan: Sampaoli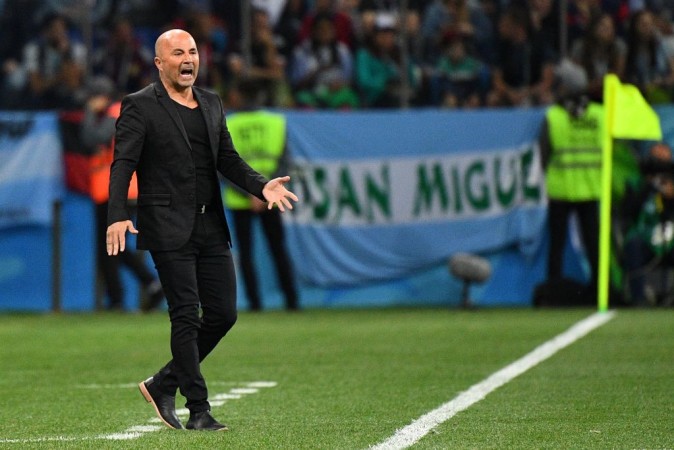 Begging for fans' forgiveness, Sampaoli also revealed he was extremely hurt by the result. The under-fire coach insisted Argentina were emotionally broken after conceding an unexpected goal in the 53rd minute following goalkeeper Wilfredo Caballero's costly error.
Captain Luka Modric's stunning strike from outside the box in the 80th minute sealed the tie for his team and Barcelona midfielder Ivan Rakitic's late goal added to Argentina's embarrassment on Thursday.
"I don't about shame but I definitely feel pain. It's been a long time since, as a coach, I have gone through such kind of feelings. There is a lot of pain because we weren't at the level the Argentine people expected us to be," Sampaoli said.
"I beg the fans' forgiveness, especially for those making great efforts to come and see us. I am the one responsible for this result.
"I was as dreamy-eyed as any fan but I am extremely hurt by this result. It makes us feel very uncomfortable, indeed. I really did the best job I could and I quite simply did not find a way to give them what they wanted.
"We were very ambitious before the game. We wanted to be the first in the group. We did think that this would be the match where we would take off but it was not the case," he added.
"I thought we could put a lot of pressure on Croatia, I thought we could focus on their half of the pitch. However, after they scored, we lost our way and we were emotionally broken and we didn't have anything to change the course of events.
Argentina will now be anxiously watching Friday's Group D encounter between second-placed Iceland and wooden spooners Nigeria.
An Iceland win will dampen Argentina's chances of qualifying for the knockout stage. On the other hand, a Nigerian win will give them something to fight for when they take on the African side in a do-or-die match on Tuesday, June 26.
Watch highlights: Argentina vs Croatia, Group D match