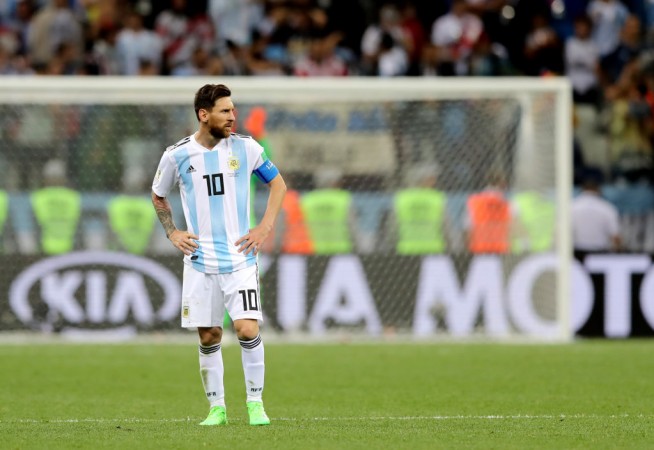 Hello and welcome to the live updates of Group D tie of Fifa World Cup 2018 Russia between Argentina and Croatia.
Live Updates
2018-06-2201:52 (IST)
Argentina not yet out of the World Cup!
Argentina are not out yet but they are on the brink after what was a disastrous show in Nizhny Novgorod.
1 - This was Argentina's heaviest defeat in the first round group stages of a World Cup tournament since losing 1-6 to Czechoslovakia in 1958. Crushed. #ARG #CRO #ARGCRO

— OptaJoe (@OptaJoe) June 21, 2018
It all started with Cabellero's costly error but Argentina's backline has been poor throughout the tournament. Modric's wonder strike and Rakitic's third added to Jorge Sampaoli's woes.
All eyes will now be on tomorrow's Group D tie between Iceland and Nigeria.
Iceland are sitting on the second spot with as many points as Argentina — 1. However, if they beat fourth-placed Nigeria tomorrow, it will be all but over for Argentina.
All the Argentina fans will be hoping for Nigeria to stop Iceland. Have a look at the Group D table here.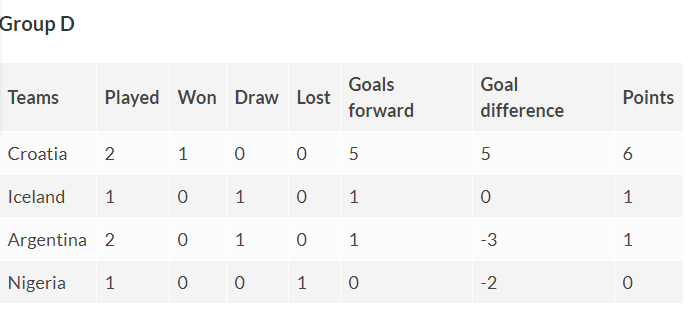 2018-06-2201:38 (IST)
Argentina humbled by Croatia!
"If it were a boxing match, the referee would have stopped it," a television presenter said after Croatia humbled Argentina 3-0 in Nizhny Novgorod on Thursday. Luka Modric-led team have sealed their place in the last 16.
Humiliation is a strong word in sport but the Albiceleste faced it in the Group D match. Diego Maradona, who was at the stands, was covering his face in disgust while a sobbing Argentine kid at the stands was being consoled by his father, who was looking equally distraught.
Lionel Messi meanwhile slowly walked off the turf with disappointment written all over his face. He was non-existent for the most part of the match.
Goals from Rebic, Modric and Rakitic helped Croatia clinch three full points on Thursday.
2018-06-2201:21 (IST)
90+1 min: Rakitic adds to Argentina's woes
The Barcelona midfielder gets his first of the night. He lead the counter-attack and shot straight to Cabellero. The rebound ball rolls to Kovacic, who passed it back to Rakitic, who had ample time inside the box as Argentina were waiting for an off-side. It never was given and they conceded their third.
What a disastrous night this is turning out to be for Messi & Co.
2018-06-2201:15 (IST)
86 min: Rakitic nearly triples the lead
As tempers flared up, Otamendi received a yellow for kicking a dead ball at Rakitic, who was brought down outside the box by Mascherano. The Barcelona man takes a free-kick, lifts it past the wall but hits the crossbar. Nothing going Argentina's way.
2018-06-2201:12 (IST)
81 min: Goal! Stunning strike from Modric
Croatia are 2-0 up in Nizhny Novgorod, thanks to a powerful strike from their captain Luka Modric from outside the box. Caballero had no chance to stop that from going in.
The Real Madrid star gets his second goal and sets off for a wild celebration.
At the other end, shoulders have dropped for Argentina. There's very little time to get back into this game, let alone collecting a point or three. Argentina fans are distraught!
2018-06-2201:08 (IST)
76 min: Crazy scenes in the middle!
Ivan Rakitic goes down after getting a knock on the rib from Otamendi. The referee doesn't stop the play immediately but does so with Argentina on the attack. The Albiceleste are fuming.
2018-06-2201:01 (IST)
71 min: Dybala makes an immediate mark
Dybala tries to curl one into the net from the right but misses the post by a small margin. This should give some confidence for Argentina, who are running out of ideas.
Meanwhile, Croatia are gearing up to make another change.
2018-06-2200:58 (IST)
68 min: Last change made by Sampaoli
Argentina make another change, their last move. Dybala replaces Perez.
2018-06-2200:53 (IST)
63 min: Messi and Argentina showing urgency
With their World Cup stint at stake, Messi is showing some urgency. He is making some good runs inside the box.
Argentina almost equalised after Higuain pulled one back from the left for Meza, who shoots it straight into the goalkeeper from just six yards outside. Another chance wasted.
Maradona biting his nails as TV cameras pan in on him, Messi looking like the world is on his shoulders from even before the match, Sampaoli screaming and shouting... there is no other team that does drama quite like #ARG#WorldCup #Rusia2018

— Ben Hayward (@bghayward) June 21, 2018
2018-06-2200:46 (IST)
57 min: Argentina make two quick changes, Croatia replace goal-score Rebic
Sergio Aguero is out, he is replaced by Gonzalo Higuain. Highly-rated Cristian Pavon comes on for Salvio. Two quick changes from Samapaoli, who is nervously walking up and down the line. Certainly not what he hoped for at the start of the second-half. Absolute howler from Cabarello.
Meanwhile, Croatia replace goals-scorer Rebic with Kramaric.
2018-06-2200:44 (IST)
55 min: Caballero gifts Croatia their first goal
Caballero will face the wrath of Argentina fans. The goalkeeper commits a grave error inside the box after he receiving a backpass from he tries to chip it back to Mercado. But the lob is perfectly set up for a stunner and Rebic makes no mistake as he slams it into the net.
2018-06-2200:34 (IST)
46 min: Sergio Aguero gets the ball rolling
The second half gets underway in Nizhny Novgorod. Sergio Aguero makes his first touch after 21 minutes, this time to kickstart the second 45 minutes.
Argentina need to buckle up. Croatia need a win here to book their place in the last-16 and if they do so, Sampaoli and his men are in for some trouble.
2018-06-2200:30 (IST)
Some worrying numbers for Argentina fans
Lionel Messi and Sergio Aguero failed to make an impact in the first-half. The Manchester City striker, who scored against Iceland, did not touch the ball for a little more than 21 minutes towards the end of the first 45 minutes, according to Opta Joe.
2018-06-2200:21 (IST)
Half-time: ARG 0-0 CRO
It remains goalless in Nizhny Novgorod at the end of the first 45 minutes.
The first-half ends with Rebic wasting a good chance. He received a delightful cross from Luka Modric from the right but she shoots it way off target. Perisic was free at the right inside the box but Rebic saying he did not see him coming in.
Both teams had a lot of chances and made some unpardonable misses and defensive errors. While Mandzukic misses a relatively tougher chance to head one into the near post, Perez shot wide off an open goal.
The problem for Argentina is that Lionel Messi and Luis Suarez have been non-existent.
Diego Maradona, who is at the stands, isn't happy with what he is seeing from the Albiceleste.
2018-06-2200:15 (IST)
40 min: Rebic gets a yellow card, Argentina want a red
Nasty challenge from Rebic. He presses his foot on Salvio's leg. The referee immediately stops play and books the winger. Jorge Samapaoli isn't happy at all.
2018-06-2200:07 (IST)
32 min: Mandzukic misses
Action at the other end. Vrsaljko puts a delightful cross from the right to the left. Mandzukic puts in a dive and heads it wide off the post. Cabarello should be a relieved man.
2018-06-2200:01 (IST)
30 min: Enzo Perez shoots wife off an empty goal
What a chance and what a miss! Lovren and goalkeeper Subasic hesitate to lose possession dangerously inside the box. Salvio gets on to the loose ball and finds an incoming Perez, who shoots wife off an empty goal. Terrible miss, Argentina should have been 1-0 up.
2018-06-2123:54 (IST)
21 min: It's all happening out there
Jorge Sampaoli is miffed with his defence and rightly so. Caballero is dangerously putting short passes. He almost let Mandzukic score one when he tried to find Tagliafico just outside the box. Meanwhile, Otamendi swings in the air as the ball goes past him, giving a few nervy moments for the Albiceleste fans at the stadium.
Argentina are also miffed with the referee. They surrounded him after Croatia were given a free-kick from just outside their box. The referee penalised Argentina after Mascherano pushed Modric to the turf but they weren't awarded a free-kick when Perez was shoved by Brozovic.
2018-06-2123:45 (IST)
13 min: Vital block from Lovren
Argentina are getting into the groove here. After they worked the Croatian goalkeeper with a lob into the box, Salvio's cross from the right gave some nervy moments for the opposition defence.
Meza's shot was deflected over the crossbar for a corner. Argentina took it short but Rakitic cleared it out of danger.
2018-06-2123:42 (IST)
10 min: Croatia impress but it remains 0-0
Croatia are producing the more threatening moments. Argentina's back three are having some problems here.
Modric's long ball found Vrsajiko inside the box on the right. The left-back headed it into the middle but Tagliafico made a crucial save.
2018-06-2123:36 (IST)
5 min: Corner for Croatia
Early warning for Argentina. Ivan Perisic fires one, targetting the far post from the left. Cabellero gets his hands to it and a corner.
The corner was comfortably cleared by Mascherano.
2018-06-2123:31 (IST)
Croatia get the game underway
It's on. The big match of the day gets underway in Nizhny Novgorod. Lionel Messi was seemingly seeking divine intervention before the kick-off.
2018-06-2123:25 (IST)
The two teams are making their way out
We are beginning with the national anthem of Argentina.
Some tense faces in the tunnel as the two teams make their way out to the turf. Argentina need to bury their opening match disappointment and start afresh today.
Is it Messi's time today? Well, he has to get the job done as a defeat or a draw could put the Albiceleste in a serious position.
2018-06-2123:18 (IST)
Argentina and their love affair with June 21
Here's an interesting stat from Fifa's official website.
Argentina have played five World Cup matches on June 21 and they have won four of them, by convincing margins.
vs Peru - 6-0 in 1978
vs Greece - 4-0 in 1994
vs Jamaica - 5-0 in 1998
vs Netherland - 0-0 in 2006
vs Iran - 1-0 in 2014
2018-06-2123:16 (IST)
Argentina make three changes
Okay, Jorge Sampaoli has made three wholesale changes to the squad. Angel Di Maria, Lucas Biglia, and Marcos Rojo are out while Marcos Aruna, Enzo Perez and Gabriel Mercado star for the Albiceleste.
Argentina have also switched to a three-man backline. They are going in with 3-4-3, in contrast to the 4-2-3-1. Lionel Messi is playing on the right and not a central role today.
Here are the confirmed line-ups of Croatia and Argentina
2018-06-2123:10 (IST)
Can confident Croatia pull off an upset?
Croatia will be a confident unit following their comfortable 2-0 win over Nigeria last week. Their captain and Real Madrid midfielder Luka Modric did not waste any time to get on the scoresheet as he hit the second goal of their match from the spot. With Modric and Rakitic running the midfield, Croatia look a dangerous outfit.
2018-06-2123:09 (IST)
Can Messi buckle up?
The biggest talking point of Argentina's opening game was Messi's missed penalty. The superstar of world football got only three shots on target and struggled to find spaces in the attacking third.
The Barcelona man needs to step up if Argentina are to avoid a catastrophic early exit from Russia.
2018-06-2123:07 (IST)
Misfiring Argentina held by Iceland
Argentina are heading into the match after being held by minnows Iceland in their Group D opener on Saturday, June 16. Lionel Messi missed a penalty and was crowded out as Iceland equalised.
The Barcelona man had 10 attempts but failed to convert even one. Sergio Aguero gave the La Albiceleste the early lead but Argentina fizzled out and struggled to break down Iceland, who sat deep throughout the tie.