The 21st edition of Fifa World Cup will start with hosts Russia taking on Asian side Saudi Arabia at the Luzhniki Stadium in Moscow on Thursday, June 14.
A total of 64 matches will be played over 31 days across 12 venues in 11 cities; 32 teams have been drawn into eight groups of four each. Moscow will host the final of the quadrennial global spectacle on July 15.
The top two teams from each group will progress to the knockout stages, starting with Round of 16 on June 30. Each team will play three matches in a single-legged round-robin format in the group stage.
Defending champions Germany, who begin their campaign on Sunday, June 17 against Mexico, will be hoping to take the coveted trophy back home. The likes of Brazil, France, and Belgium are considered strong title contenders as well.
Meanwhile, the focus will be on Argentina and Portugal as well as their superstars in Lionel Messi and Cristiano Ronaldo, respectively will likely be playing their last World Cup in Russia.
Fifa World Cup 2018: Full points table
(Teams in Bold have qualified for the Round of 16)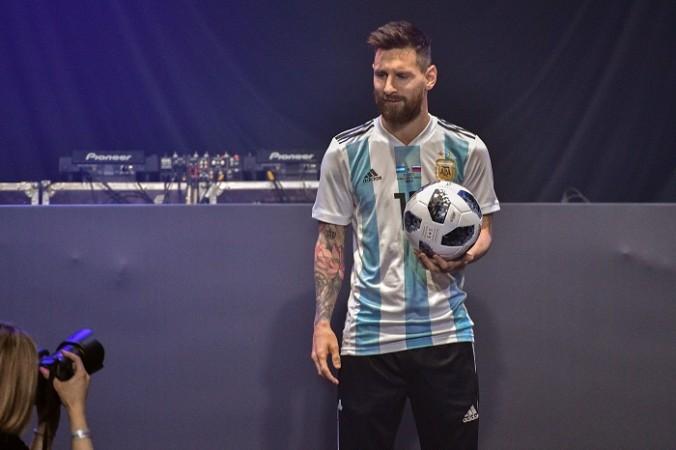 Group A
| | | | | | | | |
| --- | --- | --- | --- | --- | --- | --- | --- |
| Teams | Played | Won | Draw | Lost | Goals forward | Goal difference | Points |
| Uruguay | 3 | 3 | 0 | 0 | 5 | 5 | 9 |
| Russia | 3 | 2 | 0 | 0 | 8 | 4 | 6 |
| Saudi Arabia | 3 | 1 | 0 | 2 | 2 | -5 | 3 |
| Egypt | 3 | 0 | 0 | 3 | 2 | -4 | 0 |
Group B
| | | | | | | | |
| --- | --- | --- | --- | --- | --- | --- | --- |
| Teams | Played | Won | Draw | Lost | Goals forward | Goal difference | Points |
| Spain | 3 | 1 | 2 | 0 | 6 | 1 | 5 |
| Portugal | 3 | 1 | 2 | 0 | 5 | 1 | 5 |
| Iran | 3 | 1 | 1 | 1 | 2 | 0 | 4 |
| Morocco | 3 | 0 | 1 | 2 | 2 | -2 | 0 |
Group C
| | | | | | | | |
| --- | --- | --- | --- | --- | --- | --- | --- |
| Teams | Played | Won | Draw | Lost | Goals forward | Goal difference | Points |
| France | 3 | 2 | 1 | 0 | 3 | 2 | 7 |
| Denmark | 3 | 2 | 1 | 0 | 2 | 1 | 5 |
| Peru | 3 | 1 | 0 | 2 | 2 | 0 | 3 |
| Australia | 3 | 0 | 1 | 2 | 2 | -3 | 1 |
Group D
| | | | | | | | |
| --- | --- | --- | --- | --- | --- | --- | --- |
| Teams | Played | Won | Draw | Lost | Goals forward | Goal difference | Points |
| Croatia | 3 | 1 | 0 | 0 | 5 | 5 | 6 |
| Argentina | 3 | 1 | 1 | 1 | 3 | -2 | 4 |
| Nigeria | 3 | 1 | 0 | 2 | 3 | -1 | 3 |
| Iceland | 3 | 0 | 1 | 2 | 2 | -3 | 1 |
Group E
| | | | | | | | |
| --- | --- | --- | --- | --- | --- | --- | --- |
| Teams | Played | Won | Draw | Lost | Goals forward | Goal difference | Points |
| Brazil | 3 | 2 | 1 | 0 | 5 | 4 | 7 |
| Switzerland | 3 | 1 | 2 | 0 | 5 | 1 | 5 |
| Serbia | 3 | 1 | 0 | 2 | 2 | -2 | 3 |
| Costa Rica | 3 | 0 | 1 | 2 | 2 | -3 | 1 |
Group F
| | | | | | | | |
| --- | --- | --- | --- | --- | --- | --- | --- |
| Teams | Played | Won | Draw | Lost | Goals forward | Goal difference | Points |
| Sweden | 3 | 2 | 0 | 1 | 5 | 3 | 6 |
| Mexico | 3 | 2 | 0 | 1 | 3 | -1 | 6 |
| Republic of Korea | 3 | 1 | 0 | 2 | 3 | 0 | 3 |
| Germany | 3 | 1 | 0 | 2 | 2 | -2 | 3 |
Group G
| | | | | | | | |
| --- | --- | --- | --- | --- | --- | --- | --- |
| Teams | Played | Won | Draw | Lost | Goals forward | Goal difference | Points |
| Belgium | 3 | 3 | 0 | 0 | 9 | 7 | 9 |
| England | 3 | 2 | 0 | 1 | 8 | 5 | 6 |
| Tunisia | 3 | 1 | 0 | 2 | 5 | -3 | 3 |
| Panama | 3 | 0 | 0 | 3 | 2 | -9 | 0 |
Group H
| | | | | | | | |
| --- | --- | --- | --- | --- | --- | --- | --- |
| Teams | Played | Won | Draw | Lost | Goals forward | Goal difference | Points |
| Colombia | 3 | 2 | 0 | 1 | 5 | 3 | 6 |
| Japan | 3 | 1 | 1 | 1 | 4 | 0 | 4 |
| Senegal | 3 | 1 | 1 | 1 | 4 | 0 | 4 |
| Poland | 3 | 1 | 0 | 2 | 2 | -3 | 3 |