Chairperson of National Commission for Women (NCW), Rekha Sharma on Monday, November 6, paid a visit to the house of the 24-year-old Hadiya, who is at the centre of a raging controversy in Kerala over an alleged case of forced conversion. After meeting the woman, Sharma dismissed allegations that Hadiya's life was under threat.
The NCW chief's visit comes just days after the Supreme court directed Hadiya to present herself before it on November 27.
"She was happy. I cannot tell you what she told me because the case is in the court. Healthwise and security, she is okay. Her security is under no threat. She said she was okay and that she is waiting for 27th," Sharma said after the visit.
"I just met Akhila, Hadiya, whatever you call her. NCW was concerned about her well-being. She is in good health. She is not beaten up. She is eating her food and she was smiling," Sharma added.
Recently, Hadiya's father had told reporters that he had lost hope in the probe conducted by the Keral Police and wanted the NIA to probe Shafin Jahan's (who married Hadiya after her conversion to Islam) alleged links to IS in Syria.
Earlier Kerala State Women's Commission had requested the apex court's permission to visit Hadiya at her residence in Kottayam's Vaikkom where she has been placed under protective custody of her parents and enquire about her well being,.
In a video recorded by activist Rahul Easwar, Hadiya was seen saying that her life was under threat. "Get me out of here. Today or tomorrow, I am going to die. My father is getting angry, I can make out. He pushes me, stamps at me, kicks me when I walk around in the home."
The Supreme court has already ordered National Investigation Team (NIA) probe into Hadiya's marriage with Shafin Jahan.
The apex court has sought details over the truth in the repeated claims made by Hadiya's father that his daughter had been indoctrinated by radical groups and that she was converted and married to Jahan in order to take her to Syria to join the ranks of Islamic State (ISIS).
Jahan had earlier filed a petition against the decision of Kerala High Court which annulled his marriage to Hadiya in May 2017.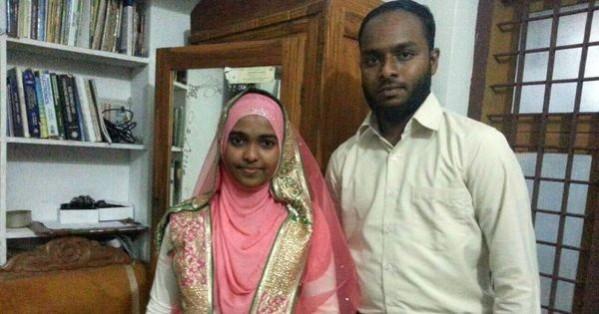 The NCW chairperson stressed that she would use the word forced conversion in case of Hadiya, and not love jihad.
Sharma also shared a picture of Hadiya holding a bouquet, given to her by the NCW members when they met her. Hadiya has not been subjected to any violence. She is happy and healthy at her home, she added.