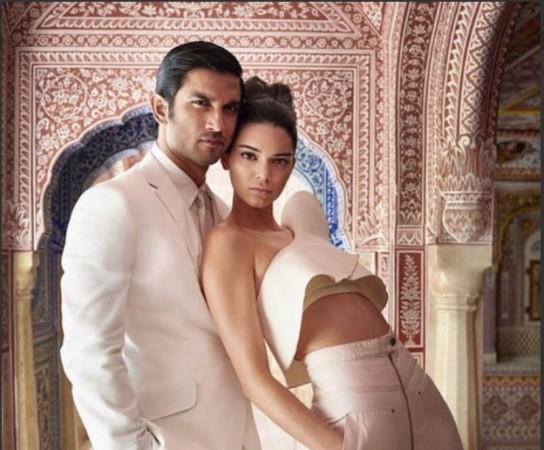 Trying to play down the controversy over Kendall Jenner's recent photoshoot in India, Vogue India on Saturday issued a statement explaining why they decided to feature the Victoria's Secret Angel in their latest issue.
The spokesperson of Vogue India clarified that the cover photo featuring Kendall is to celebrate the 10th anniversary of the magazine, but this is just a special collector's edition. They also clarified that 90 percent of the magazine's cover in the last 10 years featured Indian models.
Also Read: Kendall Jenner's Vogue India photoshoot with Sushant Singh Rajput provokes controversy on social media
"In the last 10 years, Vogue India has had only 12 international covers, including Kendall Jenner in 2017. Therefore, statistically, 90 percent of our covers are Indian! And we are proud of that," the statement said.
"India has given the world so many beautiful faces to admire. After all, we are Vogue, an international brand, and we want to give the love back by featuring some of the best international celebrities on our covers. Occasionally!" it continued.
Vogue India recently revealed the cover photo for the May issue celebrating the 10th anniversary of the magazine. The cover photo features only The Keeping Up With The Kardashians star Kendall, but the special edition also features Sushant Singh Rajput and Katrina Kaif as well. Photographer Mario Testino did the photoshoot for the magazine in Jaipur, Rajasthan.
The photoshoot looks amazing, but it also received criticism from Indians who took to social media to express their anger over not taking any Indian for the anniversary special. Several people even commented saying that they could have taken either Deepika Padukone or Priyanka Chopra.
"Someone tell me why Kendall Jenner is on the front of Vogue India's 10-year anniversary cover? Could you not find 1/500million in India?" one user said.
"She is beautiful but I'm pretty sure in a county of over 1 billion they could have found an Indian! If they want international phenomena Priyanka and Deepika are huge right now!" a Facebook user wrote.