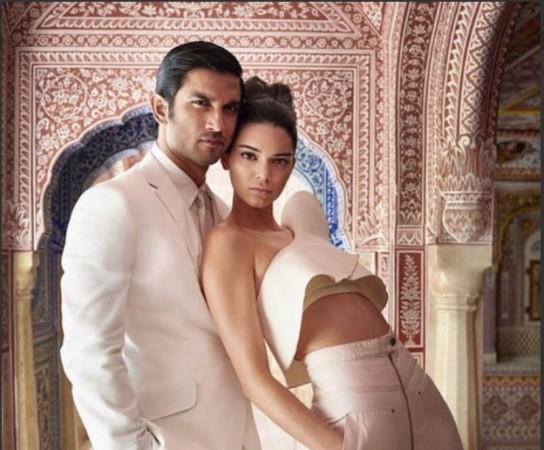 Following the massive Pepsi ad controversy, Victoria's Secret supermodel Kendall Jenner has landed up in yet another controversy. And this time, it's related to her recent photoshoot for Vogue India.
Also read: Kendall Jenner's Indian Affair: Sushant Singh Rajput shares a sizzling chemistry with Victoria's Secret model
The Keeping Up With The Kardashians star recently visited India (Jaipur, Rajasthan) for Vogue India's 10th anniversary photoshoot with Bollywood actor Sushant Singh Rajput. The pictures were taken by renowned international photographer Mario Testino.
The photos are impressive, but failed to impress people across the world and garnered negative criticism.
The photoshoot has also sent social media users into a frenzy claiming that Vogue India could have used an Indian model to portray the real essence of the country.
Not only that, people even mentioned potential names such as Priyanka Chopra, Deepika Padukone and Katrina Kaif, who could have nailed it with their stunning look. Katrina Kaif was also part of the anniversary issue, but 'unfortunately' Jenner was chosen to be the cover-girl.
The photoshoot definitely caused furore because of Kendall Jenner, but it seems that people have issues with the way she posed in front of the camera. Many of them are even mocking it by calling 'back problem', 'possessed' etc. You can check the photo here.
Take a look at the tweets below:
@VOGUEIndia As in looks, but I know many are going to go hard because Kendall's not Indian.BUT in 2016, essentially all covers were POC.

— Exavier Pope (@exavierpope) May 3, 2017
I am utterly disappointed in this Vogue India anniversary cover. There are so many deserving Indian models that should've got it. pic.twitter.com/GvVp0jxazq

— M.? (@MEENAVOGUEE) May 3, 2017
@VOGUEIndia Ugh so all the amazingly gorgeous women there were booked and you had to get one of the most ignorant people in the USA to pose? Weird

— cmerry (@cmerry) May 3, 2017
I'm so sick of seeing twig white girls everywhere man I wanna see beautiful women of colour. I think we've all had enough thanks https://t.co/Dgwr446Vwb

— fey? (@lilguaava) May 3, 2017
Someone tell me why Kendall Jenner is on the front of Vogue India's 10 year anniversary cover? Could you not find 1/500million in India?

— $abrina (@SabrinaMarie9) May 3, 2017