Prom dates are nearing and while half the class has already fixed up on their dates for the special night, others are still googling how to ask a girl (or guy) out on a date. If you are among the lucky first half, the next tension for you'll is what to wear at the prom and where to buy the prom dress from.
Also Read: Kendall Jenner's Indian Affair: Sushant Singh Rajput shares a sizzling chemistry with Victoria's Secret model
Obviously a big day, you would want to look perfect for the special event. And perfection comes with responsibility of searching for the right dress, the colour, matching accessories and perfect shoes. But what if you don't know where to draw inspiration from? Have no worries, help is here.
To make your life a little easier, we have picked five outfits that gorgeous actresses have donned over at different red carpet occasions. Right from Emma Watson's dress from the premiere of Beauty and the Beast to Priyanka Chopra's dress from the Emmy's Red Carpet, here are a few ideas that you could use to pick the best prom dress for you.
Emma Watson:
While she donned a number of beautiful gowns at different press meets, premieres and promotions of Beauty and the Beast earlier this year, she wore one particular piece that stood out. A great option for your dance night, why not stick to an all black outfit complimenting your partner's tux. She donned a custom made silk gown from the House of Givenchy. She opted to take a clutch, accessorize her look with minimal gold jewellery and sported a pair of stilettos.
Priyanka Chopra:

Make a bold statement with the Priyanka Chopra inspired red gown. The Baywatch badass twirled her way onto the Emmy's red carpet in a shinning one shoulder gown designed by Jason Wu. The empire waist flowing away from her silhouette makes a perfect dress for dancing.
Selena Gomez:
Like Selena Gomez walked hands in hands with The Weeknd on the Met Gala 2017 Red Carpet, you can also choose to indulge in some PDA wearing a Gomez inspired gown. The 'It Ain't Me' singer kept her look rather romantic as she made her first official appearance alongside The Weeknd sporting a blush colour dress. Grab all the attention from the dazzling night by choosing an off-beat but not an out-of-place eye shadow to let your eyes stand out.
Kendall Jenner: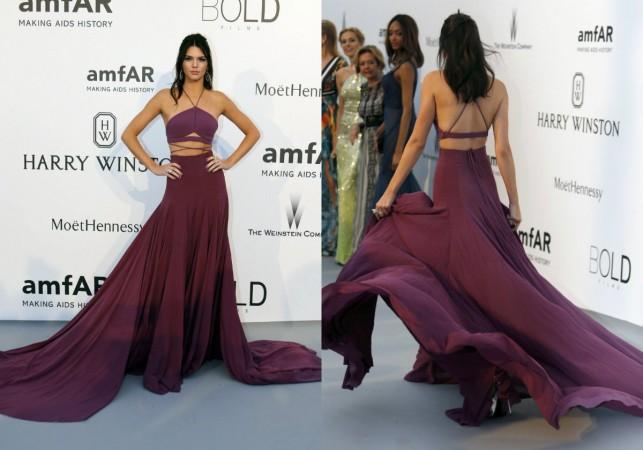 Purple oozes of a unique confidence, class and sex appeal. And Kendall Jenner knows that very well. One of Kendall's purple gowns have made headlines when it debut on Cannes film festival red carpet. The purple gown was not the conventional one piece dress. Instead, the model opted for a two-piece gown which she first wore as a gown and then wore a matching skirt for the after party. The Calvin Klein Collection though released in 2015, the idea gives on how you can rock two looks in one night.
Ivanka Trump:

We have to agree that the First Lady of United States of America, Melania Trump has a great sense of fashion. But Donald Trump's daughter Ivanka Trump knows how to pull off a gown look better than the FLOTUS. Proving it at the Inaugural Liberty Ball, the beautiful first daughter dazzled in a princess-style gown. Designed by American designer Carolina Herrera, the champagne-colored dress, sheer long sleeves and a deep V-neck with a full A-line skirt stole all the attention.