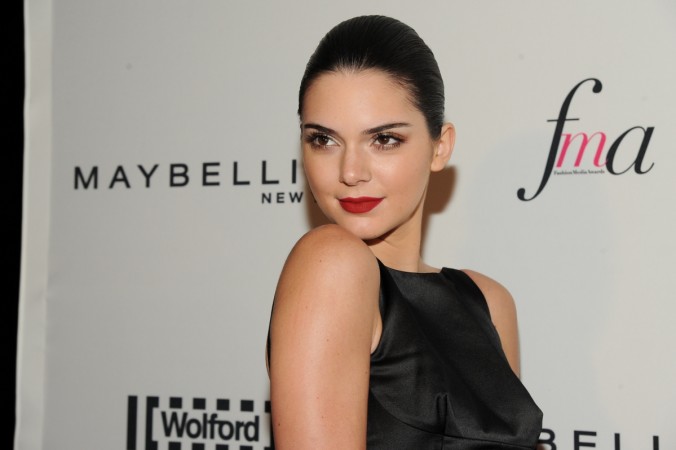 There is one thing that the Jenners and Kardashians do the best – kick up a storm on social media. On one hand, new mother Kylie Jenner took to Snapchat to show off her daughter Stormi's feet and got the social media crazy, on the other Kendall Jenner dropped a couple of nude photos on Instagram that set the platform on fire.
The 22-year-old stripped down for Sasha Samsonova's camera and flaunted her assets. The monochrome pictures gave the model's 87.7 million followers an eyeful.
Though the stunning shots garnered compliments from fans, they couldn't take their eyes off from an unusual thing in one of the pictures. While the first picture saw the diva sitting against a picturesque background while her hands and long legs covered her lean physic, in the second picture fans couldn't stop but notice Jenner's abnormal feet.
While Jenner drew attention to her perfectly round butt and covered bosoms, fans began questioning the model about the abnormality. "Those toes are odd," pointed out a fan. "Her toes look weird o.o or am I tripping??" added another. "Why am I staring at your toe so bad," questioned a follower.
"Why you have reptile looking feet.??.. scary AF," a comment read. Do you find it odd as well? Sans the odd legs, Kendall looked flawless in the shots. Her acne, which was spotted on her face at the Golden Globes red carpet, seems to have disappeared as well.
With the younger Jenner sister has been stealing most of the limelight, Kendall has maintained a low-key profile off-late. Kendall did make headlines in January when Twitter slammed her for attending the Golden Globes. But there has been nothing exciting from her side since the year started.
But boring is better than controversy, especially after the kind of year Kendall had in 2017. The reality star was bumping into one controversy after another with the Pepsi ad and the Tupac T-shirt fiasco.