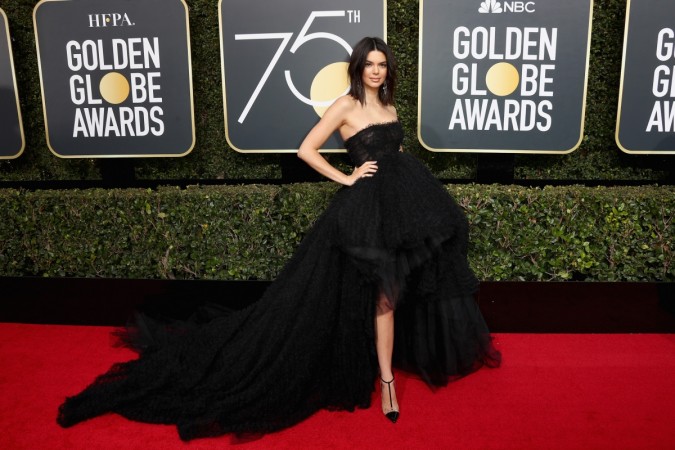 Kendall Jenner has left little to the imagination in the new photoshoot for Harper's Bazaar February issue. And, seems like the 22-year-old has found a new way to set the pulses racing while making a splash.
The reality star, who has been interviewed by Cara Delevingne, has gone completely nude while preserving her modesty with a see-through raincoat.
Also read: Kendall Jenner draws flak for Golden Globe Awards 2018 attendance
Donning a transparent Chanel rain mac, she is seen reclining on a pink see-through chair in one photo. Even the pair of Chanel boots she was wearing was transparent.
She is seen wearing a red Calvin Klein leather dress in another photo which is featured on the cover of February issue.
Besides the temperature raising photoshoot, the popular Kardashian-Jenner sister has also talked about her childhood, anxiety, social media and her life.
"I feel like the life I live is extraordinary in a lot of ways but that it also comes with a lot of responsibilities," she said. "I've had to grow up pretty fast and deal with situations most 22-year-olds aren't really put into. There are days and weeks and months when you just don't stop."
Jenner has also been suffering from "debilitating anxiety" for a long time especially when there are a lot of negative things are going on social media. Needless to say, Kendall has been the centre of the several controversies in recent times including the Pepsi ad fiasco.
"I literally wake up in the middle of the night with full-on panic attacks. Where do I even start? Everything is so horrible; it's hard to name one thing. I just think that the world needs so much love. I wish I had the power to send Cupid around the planet, as cheesy as that sounds," Victoria's Secret model told Delevingne.
"You go online and you see everyone saying the worst things to each other, and it's hard to stay positive. It's hard not to get eaten alive by all the negativity."
Hence, Jenner, who has 86.2 million Instagram followers, has found the solution — she tried to stay off the social media and does not look at the comments.
"I think Instagram is still a fun place for the most part. I like going on and seeing what people are up to, but I mostly follow stupid accounts with pictures of puppies and little baby animals and people saving animals," she said.
"Forget about Twitter, which is so not fun these days. It just makes me sad."