Kendall Jenner has hit the wrong chord with her latest Pepsi commercial (watch the full ad below) that received criticism for its controversial protest theme. After the massive uproar, experts believe that this ad might put her career in jeopardy.
Also Read: Pepsi, Nivea pull 'racist' ads; here are 5 other commercials that were withdrawn following public outcry [VIDEOS]
Talking to HollywoodLife.com, image consultant and reputation expert Eric Schiffer said that Kendall should speak up and apologise to everyone for the commercial.
"Kendall should share her regrets with the public and reaffirm her sincere apology to people mad over Pepsi's imagery," Eric told the tabloid. He further explained that the commercial was not a great celebrity brand choice, as she faced a backlash from critics and a large part of the public. He suggests that Kendall should share her feeling with critics and fans.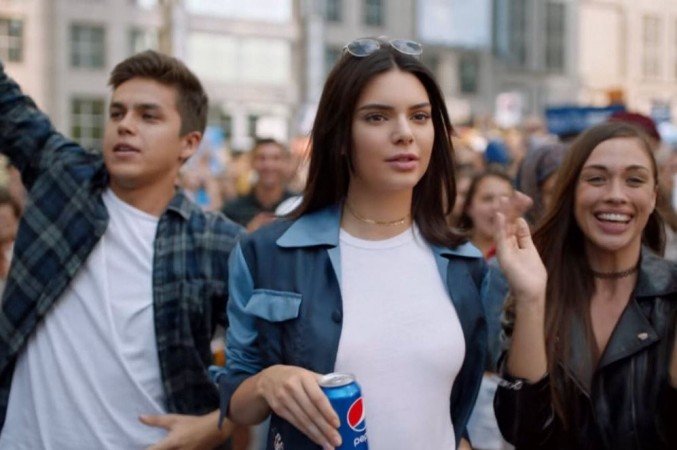 "To not speak up is a threat to Kendall's brand in its current iteration as a modern icon for young women. Show authentic regret for her part of a visual story that's created so much outrage in people," he said.
The social media uproar has reportedly shaken Kendall. "She feels like the whole world hates her. She's never had to deal with this kind of backlash, she's so upset," a source told HollywoodLife.com.
Meanwhile, Kendall is currently in Paris and sources close to her have said that she is "mortified." "Kendall would have been absolutely mortified," a source told PEOPLE. "Anything offensive is just not her. She means well, always."
The controversial Pepsi commercial, which was a part of Pepsi's "moment" campaign, was released on Tuesday. The commercial shows Kendall approaching a police officer, who along with several other officers, was monitoring the protest. Critics, celebrities, and her fans slammed her for featuring in the video that is focused on serious problems like Black Lives Matter and Resistance movements.
Following the uproar, Pepsi issued an apology and pulled down the ad.