Kendall Jenner faced backlash on social media after her Pepsi commercial was released. Celebrities and fans slammed the model and the beverage company for the new protest-themed ad.
Also Read: Budweiser's Super Bowl LI ad Born The Hard Way sparks controversy
On Tuesday, the ad went viral (for all the wrong reasons) after Kendall shared the commercial link on her Twitter page. The two-minute-long ad was a part of Pepsi's "moment" campaign.
"A short film about the moments when we decide to let go, choose to act, follow our passion and nothing holds us back. Capturing the spirit and actions of those people that jump in to every moment and featuring multiple lives, stories and emotional connections that show passion, joy, unbound and uninhibited moments. No matter the occasion, big or small, these are the moments that make us feel alive," the description of the ad on the official YouTube page said.
The ad shows Kendall ditching her photoshoot and joining the protest march. Kendall then picks up a can of Pepsi and approaches a police officer who is standing in a line along with several other officers monitoring the protest. She then gives the can of Pepsi to the officer, after which the protestors erupt in cheers.
Soon after the ad was released, celebrities and fans accused the beverage company and the Victoria's Secret Model of making a commercial on serious problems like Black Lives Matter and Resistance movements. Celebrities including Patton Oswalt, Nyle DiMarco, and Samantha Ronson were among the few who slammed Kendall and the ad.
However, in a statement to CNN Pepsi defended its latest commercial, saying, "This is a global ad that reflects people from different walks of life coming together in a spirit of harmony, and we think that's an import message to convey."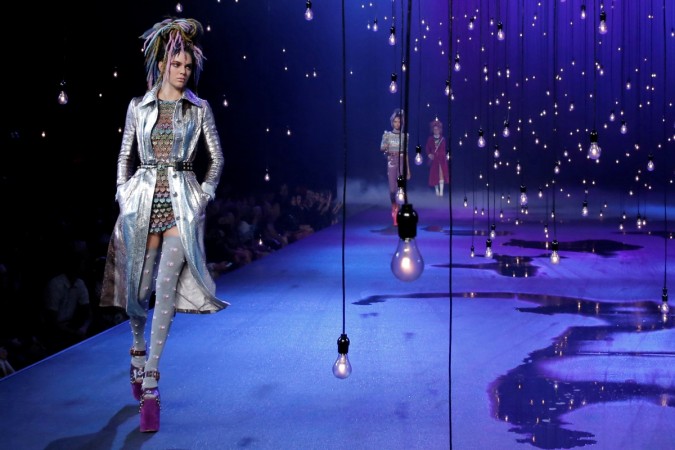 Check out the Twitter reactions below:
J. Edgar Hoover takes aim from the grassy knoll. The motorcade approaches. He fires. JFK raises a #Pepsi to his lips, blocks the bullet.

— Patton Oswalt (@pattonoswalt) April 5, 2017
While this campaign is wrong, calling this ad "tone-deaf" is also degrading for us Deaf people.

Thank you. https://t.co/Mt2X3M1Wjj

— Nyle DiMarco (@NyleDiMarco) April 5, 2017
How did this pitch make it passed the first sentence? https://t.co/G04DpKEfq5

— samantha ronson (@samantharonson) April 4, 2017
"YO JUST LOOK IN MY POCKET!!! I GOT A #PEPSI !!!! I GOT A #PEPSI !!!! pic.twitter.com/Ug61PR2V0h

— ᴷ ᴸ ᴬ ᵞ ᴱ | ズレムリ乇 (@KlayeCreation) April 5, 2017
Back when commercials promoted their product and not an agenda. The best Pepsi Ad of all time ? #Pepsi pic.twitter.com/A1FM8jmhnT

— Corryn Mobley?? (@Corrynmb) April 5, 2017
If only #KendallJenner were there with an ice cold #Pepsi pic.twitter.com/4uTVBw0Gk2

— Jesus isMy President (@VousEtesBelleee) April 5, 2017
Live footage of #Pepsi headquarters rn pic.twitter.com/Y4RlrruFn4

— Ivanna Baez (@Ivanna456) April 5, 2017

Now I know what I need next time I get stopped & harassed in Beverly Hills. Who knew? #Pepsi pic.twitter.com/dtvfFMDZi0

— Sean Patrick Thomas (@sean_p_thomas) April 5, 2017

Coca-Cola right now #Pepsi pic.twitter.com/7XLjm5OEbI

— FN-8448 ?? (@Tigu_El) April 5, 2017