President Donald Trump and First Lady Melania Trump have condemned comedian Kathy Griffin's recent photoshoot that showed her holding president's dummy head. The CNN cancelled the comedian's gig after the controversy. She was booked to host New Year's Eve broadcast on the channel.
On Tuesday, Griffin sparked controversy when her photo holding a bloodied dummy head of Donald Trump's went viral. She faced criticism on social media for the gruesome photoshoot.
Also Read: Kathy Griffin apologises for 'beheaded Trump' photoshoot after controversy erupts over bloodied prop
She was slammed by Donald Trump Jr, who called the photoshoot disgusting but not surprising, and later Melania joined the group condemning Griffin. In a statement, Melania said a photo opportunity like this makes you wonder about the mental health of the person.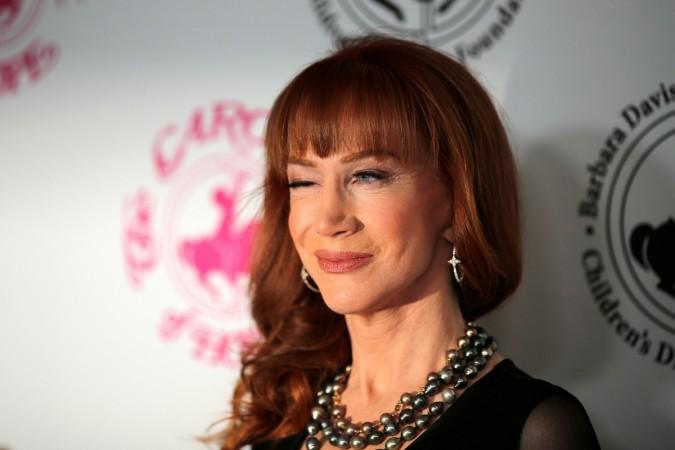 "As a mother, a wife, and a human being, that photo is very disturbing. When you consider some of the atrocities happening in the world today, a photo opportunity like this is simply wrong and makes you wonder about the mental health of the person who did it," Melania said in a statement.
Trump also took to Twitter on Wednesday to condemn the photo. He said his children, especially his son Barron, is having a hard time.
Kathy Griffin should be ashamed of herself. My children, especially my 11 year old son, Barron, are having a hard time with this. Sick!

— Donald J. Trump (@realDonaldTrump) May 31, 2017
After the controversy, she apologised for her actions, but that did not prevent her from losing her job. "CNN has terminated our agreement with Kathy Griffin to appear on our New Year's Eve program," CNN Network tweeted.
In her apology, Griffin said she knows she has crossed the line and it went way too far. "I sincerely apologise. I am just now seeing the reactions of this images. I'm a comic," she said in a video message shared on Twitter. "I cross the line. I move the line, then I cross it. I went way too far. The image is too disturbing. I understand how it offends people. It wasn't funny. I get it," she said in the video message.
Watch Kathy Griffin's video message below: