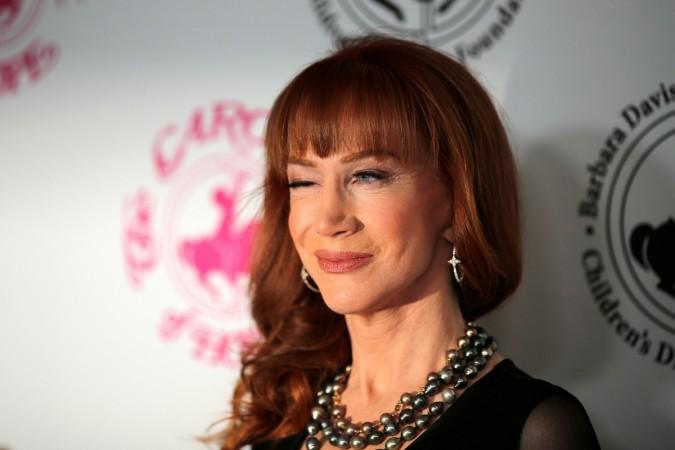 Comedienne Kathy Griffin issued an apology after she featured in a photoshoot that showed her holding a bloodied head, which looked like President Donald Trump's. Griffin apologised after she faced backlash over the gruesome photo.
"I sincerely apologise. I am just now seeing the reactions of this images. I'm a comic," she said in a video message shared on Twitter. "I cross the line. I move the line, then I cross it. I went way too far. The image is too disturbing. I understand how it offends people. It wasn't funny. I get it."
Also Read: Kit Harington calls Donald Trump a 'con artist'; George RR Martin compares him to evil King Joffrey
"I have made lots of mistakes in my career and I ask for your forgiveness. I went too far. I will ask the photographer to take down the image. I beg for your forgiveness. I made a mistake and I was wrong."
Photographer Tyler Shields, who is known for shooting provocative images, did the photo session with Griffin on Tuesday. During the photoshoot, Griffin even joked that she and the photographer will have to move to Mexico, as they fear they would be thrown in prison.
Griffin also faced criticism on Twitter after several posted messages that the photoshoot was "disgusting." Donald Trump Jr. also slammed the 56-year-old comedian and said, "Disgusting but not surprising."
Disgusting but not surprising. This is the left today. They consider this acceptable. Imagine a conservative did this to Obama as POTUS? https://t.co/QdghcbIjS7

— Donald Trump Jr. (@DonaldJTrumpJr) May 30, 2017
Chelsea Clinton, daughter of Bill and Hillary Clinton, also slammed Griffin. She said it is not funny to joke about killing a president. "This is vile and wrong. It is never funny to joke about killing a president," she tweeted.
Griffin was also accused of promoting violence against Trump, but defended herself saying that she is just mocking the "Mocker in Chief."
"2/ OBVIOUSLY, I do not condone ANY violence by my fans or others to anyone, ever! I'm merely mocking the Mocker in Chief," she said in one of the deleted tweets, according to CNN.
CNN network, where Griffin co-hosts New Year's Eve program, in a statement said the photos are disgusting and offensive, adding that they are "evaluating New Year's coverage."
New: CNN says Kathy Griffin photo "disgusting and offensive." Says it is "evaluating our New Year's Eve coverage…." Statement:: pic.twitter.com/u5rtj86Ty2

— Dylan Byers (@DylanByers) May 31, 2017
Her co-host Anderson Cooper also called the image completely inappropriate. "For the record, I am appalled by the photo shoot Kathy Griffin took part in. It is clearly disgusting and completely inappropriate," he tweeted.
For the record, I am appalled by the photo shoot Kathy Griffin took part in. It is clearly disgusting and completely inappropriate.

— Anderson Cooper (@andersoncooper) May 31, 2017
New: CNN says Kathy Griffin photo "disgusting and offensive." Says it is "evaluating our New Year's Eve coverage…." Statement:: pic.twitter.com/u5rtj86Ty2

— Dylan Byers (@DylanByers) May 31, 2017
.@KathyGriffin finally did something memorable... or should I say something wicked, evil, and disgusting that will haunt her forever? #MAGA

— David Creasey (@dcreasey818) May 31, 2017
You are just another disgrace of what this country is going thru! Your arrogance & disrespect is your demise! #kathygriffin

— JanuaryRosie (@JANUARYROSIE) May 31, 2017
Very sick. This isn't art, this is a THREAT! Shameful

— OmaThriceOver (@OmaThriceOver) May 31, 2017
that kathy griffin photo shoot went through so many steps prior to getting published and still no one thought it was bad enough to stop

— Diego Diaz (@degogo_) May 31, 2017