Confused on what to choose for a royal occasion? Follow the best. This is what the royal guests of the Royal Ascot recently did for the event. They proved that Kate Middleton is their inspiration when it comes to choosing an outfit and related accessories for something grand. In the recent royal occasion, three guests appeared in a dress that was similar to those once worn by Middleton.
The guests were seen in a white crochet Self-Portrait outfit that the Duchess of Cambridge wore during a red carpet appearance in November 2016. This was when she attended the premiere of "A Street Cat Named Bob" with husband Prince William. The dress marked the versatile fashion sense of Middleton as it appeared to be a perfect match for the event she was attending while keeping her royalty along. Even after two years of the event, her style is being idealized for such grant occasions. Applause!
One of the guests opted for a tea-length version of the white crochet outfit and accompanied the dress with silver accessories while another one adorned herself with a maxi length version along with strappy sandals and a blue fascinator. There was another guest who wore the dress and had a close-up click from the back. She flaunted her pink floral hat that accompanied the Kate Middleton-inspired outfit.
Though the Duchess could not attend the Royal Ascot event due to her maternity leave post the birth of Prince Louis, the guests made sure she is not missed. Kate Middleton has always been the royal style icon who knows when to wear what. Whether it's her skirts or gowns or hats or casual wear, she looks perfect and royal in whatever she wears. The Duchess' fashion sense has grabbed even more attention after the entrance of former actress Meghan Markle in the family.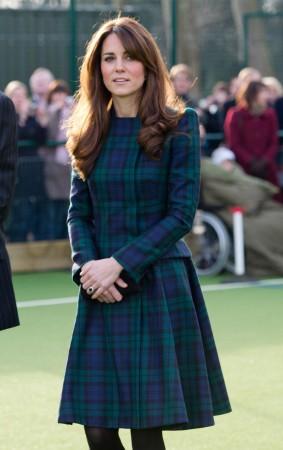 Fans have started comparing both the Duchesses in every occasion they attend either together or individually. In fact, the Duchess of Sussex has also been found following Middleton when it comes to choosing outfits for the royal events. Though the two are always compared on different news platforms, the sisters-in-law share an affectionate bond as observed in the last couple of months.