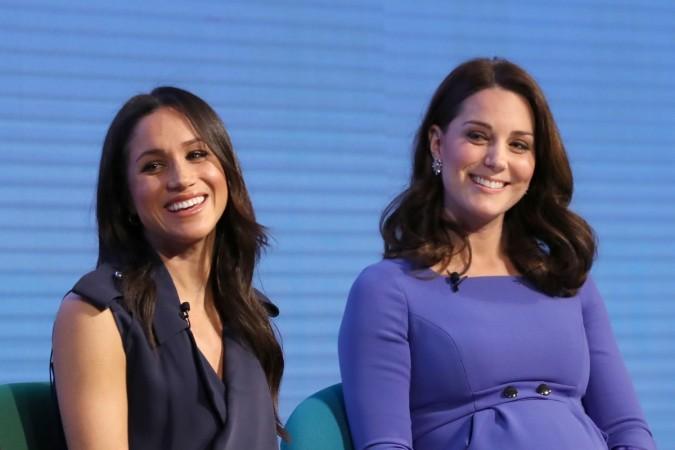 Kate Middleton and Meghan Markle's bonding before the latter's wedding caught headline worldwide. They were the best buddies with Kate helping Meghan with the royal traditions and protocols. However, post the wedding of Meghan and Harry, things seem to have taken a turn. Reports from the royal family hint a possible feud between the ladies.
There is no doubt that Meghan is putting her heart and soul into implementing every royal tradition with ease and perfection. Though there were few hiccups in the beginning, Meghan has very well managed to gain popularity and love of fans across the globe. The rising popularity of Meghan seems to have caused tension and insecurity between the royal ladies. Moreover, Kate is out of shutterbugs after the arrival of Prince Louis.
Another key cause of the feud seems to Queen's Elizabeth's rapport with her granddaughters-in-law. While Kate's solo trip with Queen came a year after her wedding with William. Moreover, Kate always shares a formal relationship with the Queen while Meghan's outing with the Queen was filled with laughter, fun and giggles. Remember, the girls-only trip to Cheshire came just a month after her wedding and the Queen even gifted a diamond earring to the former actress.
The latest report on InTouch Weekly hints a major conflict between the ladies and has even mentioned that Kate has cut all ties with the Suit actress. "Meghan learned everything from Kate. But since the wedding, Kate feels like Meghan has barely made any effort with her and is more interested in impressing Queen Elizabeth. In all fairness, Meghan has been busy. But Kate feels like she's put a lot of effort into their friendship and hasn't gotten much in return," gossip site Closer Weekly quoted the magazine.
Well, it looks like a conflict is definitely on rising between the royal member. We wonder how William and Harry are going to handle the situation.