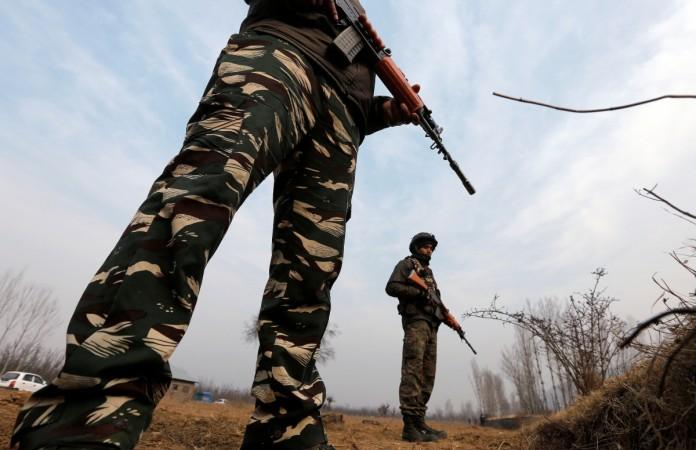 A Special Police Officer, who was carrying an AK-47 rifle, has gone missing in Jammu and Kashmir, news agency ANI reported on Wednesday (June 27).
The SPO who has been identified as Irfan Ahmad Dar. He went missing soon after he left from Pampore police station due to some illness. Kashmiri separatist militant organisation, Hizbul-Mujahideen has claimed that SPO who fled with AK-47 rifle, has joined their ranks, reported DNA.
The police have launched a search operations to trace the missing cop. The SP of Awantipora Muhammad Zahid Malik confirmed that the SPO is missing since last evening.
The missing cop is a resident of Kakapora in Pulwama.
Abduction and murder of Aurangzeb
This news comes a few days after army jawan Aurangzeb, who belonged to the 44 Rashtriya Rifles (RR) camp at Shadimarg, was abducted by terrorists on Thursday, June 14. The Jammu and Kashmir Police had launched a massive manhunt, following which his bullet-ridden body was recovered from Gussu village, about 10 km from Kalampora, in Pulwama district, later in the day.
Earlier incidents
However, this is not the first time that a person from the police or armed forces have joined terrorist outfits in Kashmir.
Earlier in April 2018, reports had claimed that a soldier named Mir Idress Sultan had joined the terror outfit Hizbul Mujahideen.
The 23-year-old is said to have joined the Indian Army about three years ago and was a part of the Jammu and Kashmir Light Infantry (JAKLI) regiment. He was posted to Bihar's Danapur and the police have said that Sultan wasn't happy about the posting and had been vocal about it.
In another incident that took place in July 2017, a Kashmiri soldier Zahoor Ahmad Thokar is also said to have left his unit with his service rifle and joined the Hizbul Mujahideen.
Militants thrash SPOs
Meanwhile on Tuesday night (June 26), a few suspected militants barged into the houses of two SPOs named Shakir Ahmad Bhat and Sajad Ahmad Ahangar in Kashmir Pulwana district and threatened to kill them if they didn't leave their jobs, reported Greater Kashmir.