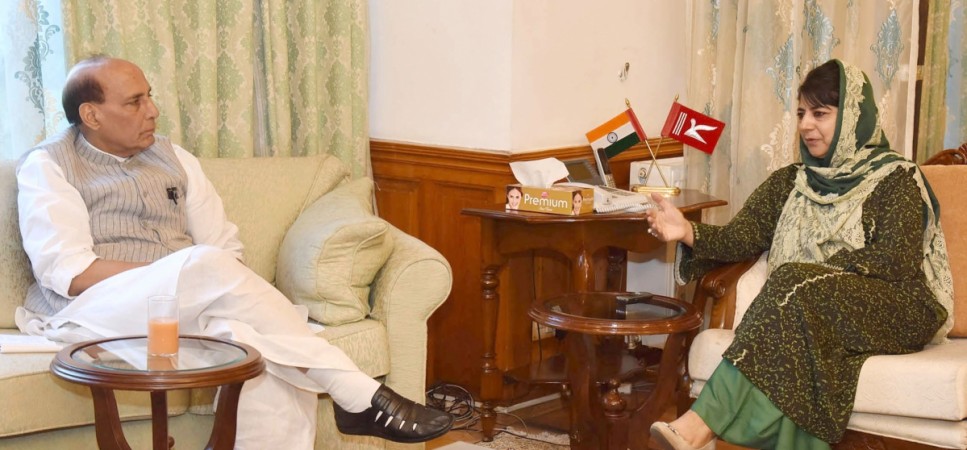 Union Home Minister Rajnath Singh on Thursday — the second day of his visit to Jammu and Kashmir — said at a press conference, he addressed jointly with J&K Chief Minister Mehbooba Mufti, that he had reached out to 95 percent people in the state who did not want violence, and that the time had come to look for an alternative to pellet guns.
J&K has been on the boil for nearly a couple of months, following the killing of self-styled Hizbul Mujahideen commander Burhan Wani, following which violent protests broke out across the state. The security forces, armed with pellet guns — which were considered a non-lethal option to firearms in the quest to dispel agitators — were called in.
However, a rising number of serious pellet-gun injuries, and even deaths, among civilians has since led the Indian Army to consider other alternatives for crowd-management and fending off stone-pelters.
Rajnath said that the pellet gun had been considered a non-lethal weapon in 2010, when it's use in the state was decided upon. "Lekin aaj hum mehsoos kar rahe hain ki koi na koi iska ab alternate hona chahiye [But today we are realising that there should be an alternative]," he said.
However, the home minister also said more than 4,500 security personnel have been injured in the current spate of clashes in J&K — which have resulted in nearly 70 civilian deaths in the state, including the one on Wednesday. He also appealed to the protesters to consider the times when the very same Army they were clashing with had helped them out during the floods.
Giving a hint of what the Central government has in store for Kashmir and Kashmiris, Rajnath said the Centre would soon appoint a nodal officer to help Kashmiris in distress, living anywhere in the country.
He repeated his earlier statements, that youths in the state were being misguided and misled by some elements, a remark bolstered by a top local Indian Army official's claim that militants had fired at Army personnel from behind stone-pelters during protests, and of late many of the agitations had been "manufactured."
Rajnath also said he was prepared to bring an all-party delegation to J&K who could assess the situation on their own, and that the future of India could not exist without the future of J&K.