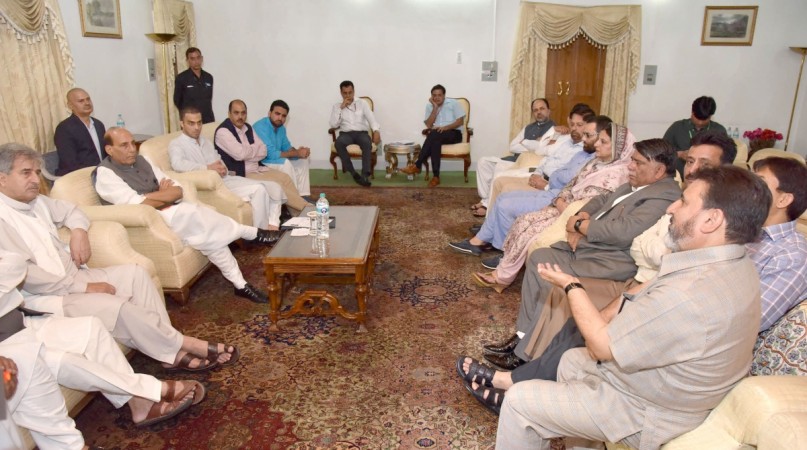 Union Home Minister Rajnath Singh on Wednesday commenced his stock-taking two-day visit to Jammu and Kashmir with the home secretary and other ministry officials in the retinue. Clashes between citizens and armed forces continued in the state, with one youth dying in the Pulwama district.
Rajnath on Wednesday met political leaders who have a stake in the resolution of the Kashmir crisis. The home minister met leaders from the Peoples Democratic Party (PDP) led by party General Secretary Mohd Sartaj Madni. The BJP is currently ruling the state in coalition with the PDP.
The home minister also met a delegation from the Opposition party, National Conference, led by former J&K chief minister, Omar Abdullah. BJP leader Ram Madhav said Rajnath would also meet the J&K governor, representatives of the security forces deployed in the state and anybody else who would like to meet him.
Rajnath said on Twitter on Wednesday: "I will be staying at the Nehru Guest House. Those who believe in Kashmiriyat, Insaniyat and Jamhooriyat are welcome [to visit]." He also said: "Shall interact with civil society groups, political parties and other stakeholders."
Rajnath's visit has been necessitated by continued violence in the state since the death of self-styled Hizbul Mujahideen commander Burhan Wani. Wani's killing by the Indian Army seemed to have opened a floodgate of protests. However, a top-ranking Army official in J&K has since said that militants had fired at the security forces from behind stone-pelters, who had taken part in the protests. This had lent credence to theories that external forces — most likely Pakistan — could be manufacturing these protests.
Meanwhile, a youth from a village in the Pulwama district died of injuries sustained from pellet gun firing during protests on Wednesday morning. "Aamir Bashir, who had pellet injuries in his chest, was brought to SMHS Hospital here [in Srinagar] but the doctors declared him brought dead," said police sources.