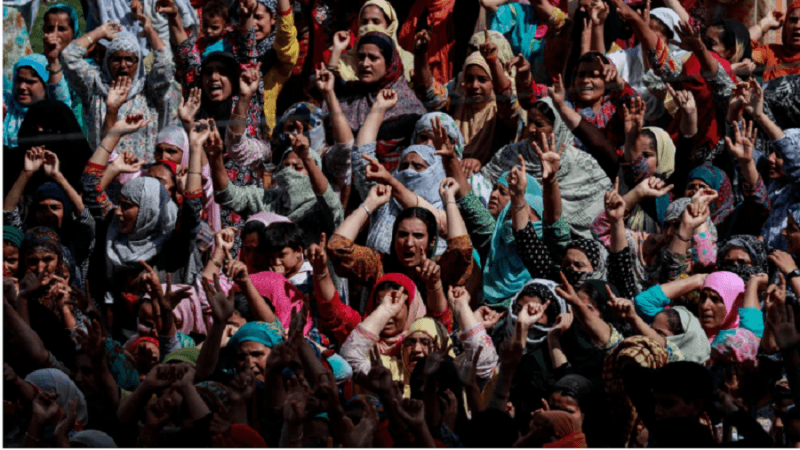 Jammu and Kashmir is celebrating its first Eid on Monday, August 12, amid tensions following the abrogation of Article 370. On Sunday, the J&K administration held a meeting with local clerics to oversee prayer arrangements and ensure peaceful celebrations of Eid-ul Azha. Restrictions were relaxed in the Kashmir Valley to facilitate Eid-ul Azha preparations amid the ongoing security clampdown. ATMs and a few market places were open in Srinagar and other towns as locals came out to shop for the festival. In Srinagar, Section 144 has been lifted and cell phone lines have been made functional.
Taking to Twitter, the J&K Police had tweeted saying that the situation in the state is peaceful and no untoward incident has been reported from anywhere in the state. However, over 400 political leaders including former J&K chief ministers Omar Abdullah and Mehbooba Mufti have been under arrest since the revocation of J&K's special status. Follow live updates on ibtimes.co.in for more developments about Jammu and Kashmir.
Live Updates
2019-08-1214:18 (IST)
Punjab CM hosts 80 Kashmiri students for Eid lunch
Punjab Chief Minister Captain Amarinder Singh hosted around 80 Kashmiri students for lunch to celebrate Eid-al-Adha. The students were from various universities of the state. They were not able to go back home due to the restrictions imposed in the wake of the abrogation of Article 370.
2019-08-1213:20 (IST)
Thousands offered Eid prayers in Kashmir, says J&K Police
Taking to Twitter, Jammu and Kashmir Police officer Imtiyaz Hussain said that tens of thousands of people offered prayers on Eid.
Large number of people congregated for Eid-ul-Adha prayers in thousands of mosques all across Kashmir valley. Peaceful all around. pic.twitter.com/kc78jrwtRA

— Imtiyaz Hussain (@hussain_imtiyaz) August 12, 2019
2019-08-1213:12 (IST)
WATCH | Low-key Eid celebrations in Kashmir amid prohibitory orders
2019-08-1212:16 (IST)
Pakistan says no to sweets offered by Indian Army
India's nuclear-armed neighbour Pakistan has refused to accept sweets offered by the Indian Army forces at the Rajasthan border on the occasion of Eid.
2019-08-1211:43 (IST)
Imran Khan dials Iran President Hassan Rouhani
As part of his outreach to global leaders, Pakistan Prime Minister Imran Khan called Iranian President Hassan Rouhani to apprise them about the situation in Jammu and Kashmir. Khan has already called prime ministers of the UK and Malaysia, as well as the Turkish president, Saudi crown prince and king of Bahrain to apprise them about the Kashmir situation. Khan highlighted the serious risk of massive killings and stressed that the international community must act urgently to prevent the impending calamity.
2019-08-1211:19 (IST)
Jammu celebrates Eid, relaxations continue
In Jammu, the restrictions have been eased as the region celebrates Eid-ul-Azha today. Devotees were seen offering early in the city on Monday.
2019-08-1211:15 (IST)
Pakistan to observe its Independence Day as Kashmir Solidarity Day
On August 14, Pakistan will observe its Independence Day as Kashmir Solidarity Day, confirmed Foreign Minister Shah Mahmood Qureshi. Qureshi stated that Pakistan will celebrate its Independence Day this year to express solidarity with the Kashmiris. Apart from snapping trade relations with India, Pakistan has downgraded its diplomatic ties. The country has also suspended the Samjhauta Express, the Thar Express and Lahore-Delhi 'Dosti' bus service between India and Pakistan.
2019-08-1210:56 (IST)
WATCH | Ladakh MP Namgyal dances, celebrates
Ladakh MP Jamyang Tsering Namgyal dances and celebrates with the locals of his constituency.
The residents believe firmly in the principal of environmental conservation. Following this norm, they have taken a pledge of no crackers even for the celebrations.
This video shows how celebrations can happen in an eco-friendly environment. #NewLadakh pic.twitter.com/tP3CNj0lym

— Jamyang Tsering Namgyal (@MPLadakh) August 11, 2019
2019-08-1210:36 (IST)
Security alert in Ladakh!
A security alert has been issued in Ladakh while Kargil limps back to normalcy.
2019-08-1210:32 (IST)
WATCH | J&K people offering namaz on Eid al-Adha
People can be seen offering namaz on Monday morning at Mohalla mosques on Eid al-Adha. The Jammu and Kashmir police officials greeted people outside a neighbourhood mosque in J&K.
2019-08-1210:15 (IST)
Over 250 ATMs, banks opened for Eid al-Adha
Over 250 ATMs and bank branches were opened in Srinagar for people to withdraw money ahead of Monday's Eid al-Adha celebrations. Six 'mandies' and markets have been established in Srinagar city while 2.5 lakh sheep have been made available for public for sacrifice on Eid-ul-Azha today. The authorities have also deployed mobile vans for door to door delivery of vegetables, LPG cylinders, poultry and eggs.
2019-08-1210:06 (IST)
PM Modi, Rahul Gandhi wish Eid Mubarak
Prime Minister Narendra Modi took to Twitter to wish on the occasion of Eid al-Adha.
My best wishes on the occasion of Eid al-Adha. I hope it furthers the spirit of peace and happiness in our society. Eid Mubarak!

— Narendra Modi (@narendramodi) August 12, 2019
Congress leader Rahul Gandhi also wished 'Eid Mubarak' to all the citizens of the country.
2019-08-1210:03 (IST)
Will Kashmiris celebrate Eid in Valley amid lockdown?
Ahead of the Eid-ul-Zuha on August 12, Centre relaxed restrictions that were imposed before the government's move to abrogate provisions of Article 370 that gave special status to Jammu and Kashmir, and bifurcation of the state into two union territories. READ FULL STORY HERE