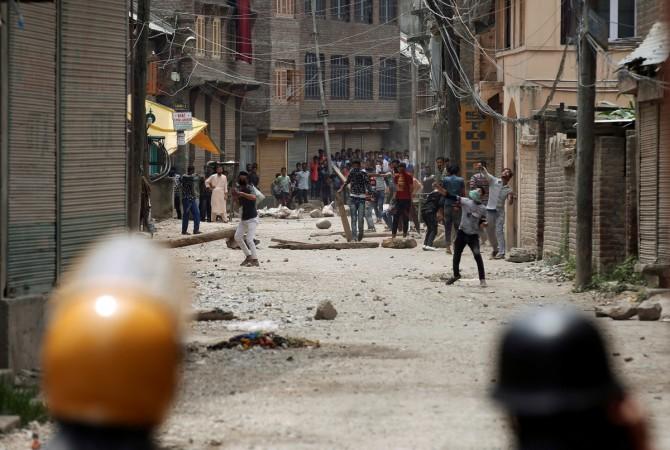 As fresh reports suggest that the death toll in Kashmir has risen to 33, Prime Minister Narendra Modi who has just chaired a high-level meet on the issue has finally broken his silence on the issue and has appealed for peace to return to the valley.
"Prime Minister has appealed to the people of Jammu and Kashmir to maintain calm and peace so that normalcy returns and no innocent lives are disturbed," Jitendra Singh, Minister of State in Prime Minister's Office was quoted telling Business Standard after the meeting.
Civil strife in the meantime rages on in Kashmir after the killing of militant Burhan Wani, wanted by the security forces. Curfew remains to be lifted and internet and communication continues to be suspended by the government to contain spread of rumors by anti-social elements.
While the protest on the streets continue, social media has been buzzing about the protection of free speech and internet freedom after the account of an academic associated with the University of California, Berkeley was suspended by Facebook.
Huma Dar, a pro-Kashmir activist alleged that her account was suspended by Facebook for protesting against the atrocities in Kashmir. Following this, many came out in support of the activist on various social media platforms. Facebook was on the receiving side of their scorn.
A Facebook spokesperson speaking to Firstpost clarified their stand on the subject: "We don't allow any organisations that are engaged in the following to have a presence on Facebook: Terrorist activity, or Organised criminal activity. We also remove content that expresses support for groups that are involved in the violent or criminal behavior mentioned above. Supporting or praising leaders of those same organisations, or condoning their violent activities, is not allowed. We welcome broad discussion and social commentary on these general subjects, but ask that people show sensitivity towards victims of violence and discrimination."
Users can report offensive content to Facebook via a Report tool, which is then reviewed by Facebook's internal team, which takes a call based on whether something is in violation of the standards, according to Facebook's Community Standards. But that's not the only guideline that Facebook follows.
"Governments also sometimes ask us to remove content that violates local laws, but does not violate our Community Standards. If after careful legal review, we find that the content is illegal under local law, then we may make it unavailable only in the relevant country or territory," Facebook's Community Standards guidelines say.
Outnumbering 92 other countries, India topped the list of countries that regularly implore Facebook to censor and remove posts. India had made 15,155 demands in the last year which was a three fold increase compared to 2014, when India only made 5,832 requests, according to a report in the Indian Express.