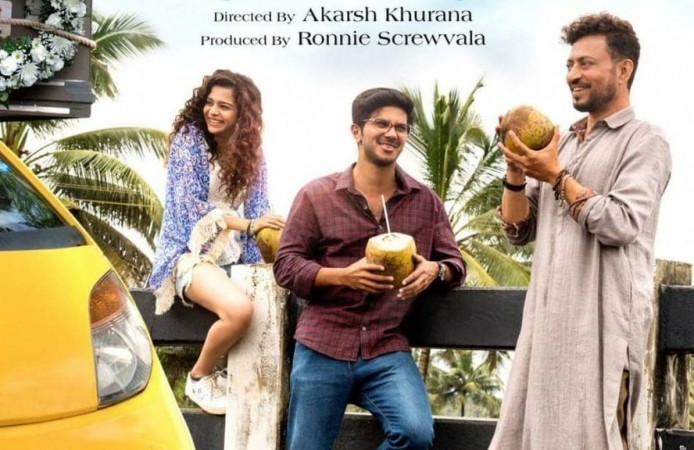 Dulquer Salmaan, Irrfan Khan and Mithila Palkar starrer Karwaan has been released in theatres across India. The movie reviews are out and critics have given their verdict about this unconventional journey of three individuals.
Directed by Akarsh Khurana, Karwaan revolves around 3 oddballs from different walks of life who are thrown together on a somewhat bizarre journey, which helps them find normalcy in their lives. It is a road trip on which some crazy adventures take place, some lines are crossed, some bonds are forged, detours are made, experiences are shared and secrets are revealed. An uneasy alliance is formed between three unlikely co-passengers on an eventful journey from Bangalore to Ooty to Kumarakom and finally to Kochi.
The movie marked the Bollywood debut of Malayalam superstar Dulquer Salmaan but the critics felt that the script didn't give him ample scope to make a lasting impression. Mithila Palkar also somehow becomes the victim of a poorly written character and doesn't get enough scope to showcase her abilities onscreen. Even Irrfan Khan's character remained unexplored.
Check out some excerpts of Karwaan movie reviews that will help you decide if the movie is worth your money and time.
Times Now: "Karwaan speaks with you at a very deeper level. This is already one of my favourite road films of all time. This endearing and fun journey of finding oneself is definitely worth your time and money. Even if it doesn't strike a chord with you, at the very least, you will find yourself smiling throughout the film, which isn't a bad deal either. Just make sure you don't miss joining this Karwaan."
Khaleej Times: "All the three characters seem under-cooked and unidimensional. Nothing they do will surprise you on the big screen. Bejoy Nambiar's story tries to find humour in grave situations and hit the spot only half of the times. What keeps 'Karwaan' going is the unflinching Shaukat with his dry humour, peppered with witty one-liners. Revolving around two dead bodies, the film doesn't mourn the dead but celebrates their life. We aren't convinced why this road trip began in the first place and if this was the best Dulquer could choose for his launch."
First Post: "Watching Karwaan is like driving through a lush green road, earphones plugged in with your favourite music and your thoughts playing out like the opening credits of a film. At some point you will get tired of the view, and you may even fall asleep. But the journey moves along anyway, much like life."
Pinkvilla: "If Irrfan is yang then Dulquer is the Yin and his subtle performance is like a breath of fresh air. Karwaan was the apt Bollywood kick start that Dulquer deserved and they have used his likeability factor to the same extent as it was done with Fawad Khan in Khoobsurat. Mithila Palkar uses her bubbling burst of energy to add feminity and young naivety on what would have otherwise been an all-boys club. There's a suprise cameo by Kriti Kharbanda who brings a much-needed closure to one of the characters. Irrfan, Dulquer and Mithila are the reason you should watch this mad-Hollywoodesque road trip film and did I forget to mention the rib-tickling dialogues?"
Conde Nast Traveller: "While the film does not take you on scenic trip, it makes you look inward. It makes you want to pick that phone, call old friends and get in a car for a trip without a purpose. A trip to discover yourself via the people in your life, rather than the road itself, something many road trip films attempt with mixed results. And that's what makes Karwaan special."