The controversial steel flyover project in Bengaluru, which was scrapped by the Congress government in 2017, will be re-examined by the Janata Dal-Secular (JD-S)-led coalition government after all the protests and criticisms.
The 6.9-kilometre project which will cost a bucket load of taxpayer's money, nearly Rs 1,800 crore, was earlier dismissed by the Congress government-led by Siddaramiah as the people and several social activist groups had protested vehemently against its construction.
Karnataka Deputy Chief Minister Dr G Parameshwara announced the revival of the steel flyover on Tuesday. He has discussed the proposal with CM HD Kumaraswamy and will take it up to the Cabinet, which will finalise a decision on the project.
He said that the project was dismissed due to the protests and political tensions that had aroused earlier, but the government is ready to back the project now on public interest.
Why a steel flyover?
The idea for a steel flyover was introduced by the Bangalore Development Authority (BDA) to remove the traffic congestions on the airport road, especially from Mekhri Circle towards Hebbal, as the airport is located nearly 40 kilometres away from the city.
The plan was to build a six-lane flyover covering a distance of 6.9-kilometres connecting Esteem mall in Hebbal to Basveshwara Circle in the heart of the city.
Congress leader KJ George had earlier tweeted on the steel flyover project in 2016.
Protests against the government
The government had to bear a huge expense and more than 800 trees had to be cut down for the commencement of the steel flyover, so many citizens moved the High Court opposing the construction.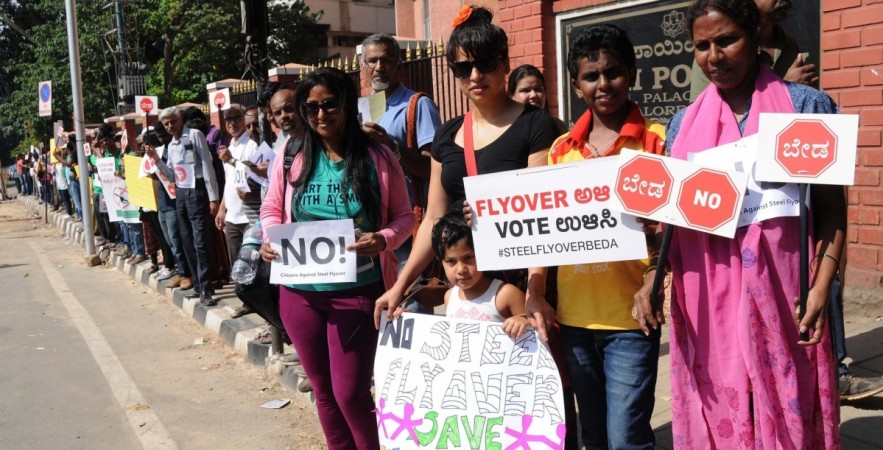 The civic society along with social activists and urban experts opposed the project by organizing a massive protest on October 2017 which included nearly 10,000 people.
The opposition had also attacked the ruling government when the Congress party was caught up in huge allegations of corruptions after the Income Tax (IT) department seized a diary from a Congress lawmaker.
Bharatiya Janata Party (BJP) chief BS Yeddyurappa had earlier lashed out at the Congress government, claiming that the diary had information on various deals and money transfers done by the ruling government.