After the Congress-JD(S) alliance formed the government in the south Indian state of Karnataka, all eyes were on which MLAs would get cabinet berths and who would be alloted what portfolio. After days of speculations and waiting, the list was finally out released on Friday, June 8.
While the portfolios have now been alloted, it is being said that this could be just for two years and the Congress ministers will be rotated thereafter.
The party plans to assess the performance of its ministers every six months and those not doing their job will have to make way for others, who, for now, have not been allotted a ministry. We'll have to wait and watch if Congress really acts on this plan, but for now, here's the full list of Kumaraswamy's Cabinet ministers and their departments.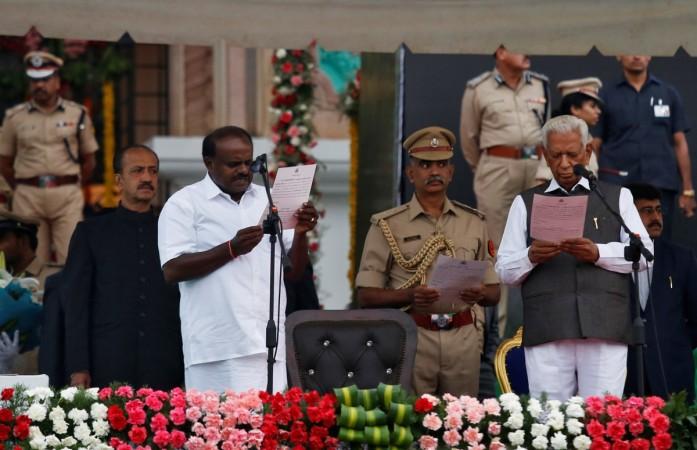 Chief Minister HD Kumaraswamy -- Finance Ministry, Personnel and Administrative Reforms, Information, Planning and Statistics
Deputy CM G Parameshwara -- Home Ministry, matters related to Bengaluru city and Youth Empowerment
Congress
DK Shivakumar -- Irrigation and Medical Education
R V Deshpande -- Revenue
K J George -- Large and Medium Industries and IT&BT
Jayamala -- Women and Child development along with Kannada and Culture
M C Managuli -- Horticulture
Krishna Byre Gowda -- Rural Development, Law and Justice, Parliamentary Affairs
Shivashankara Reddy -- Agriculture
Ramesh Jarkiholi -- Municipalities and Local Bodies, Ports and Inland transport
Priyank Kharge -- Social Welfare
U T Khader -- Housing, City Corporations
Zameer Ahmed khan -- Food and Civil Supplies, Minority Welfare and Wakf
Shivanand Patil -- Health and Family Welfare
Venkataramanappa -- Labour
Rajshekar Patil -- Mines and Geology, Muzrai
Puttaranga Shetty -- Backward Classes Welfare
JD(S)
HD Revanna -- Public Works ministry
Bandeppa Kashampur -- Cooperation
G T Deve Gowda -- Higher Education
D C Thammanna -- Transport
S R Srinivas -- Small Scale Industries
Venkatrao Nadagouda -- Animal Husbandry and Fisheries
C S Puttaraju -- Minor Irrigation
Sa Ra Mahesh -- Tourism and Sericulture
BSP
Mahesh -- Primary and Secondary Education
KPJP
R Shankar -- Forest and Environment.