Bengaluru, once famous for its weather, which led the IT industry to the city has shown a drastic change in its climatic conditions due to urbanisation, deforestation, dense population and pollution. The flora and fauna of the city have also suffered and Bellandur Lake, the largest lake in the city, is a prime example.
The wastes that are dumped into Bellandur Lake tend to have toxic substances which leads to the lake catching fire. It has also resulted in the formation of a foam-like substance on the surface of the lake.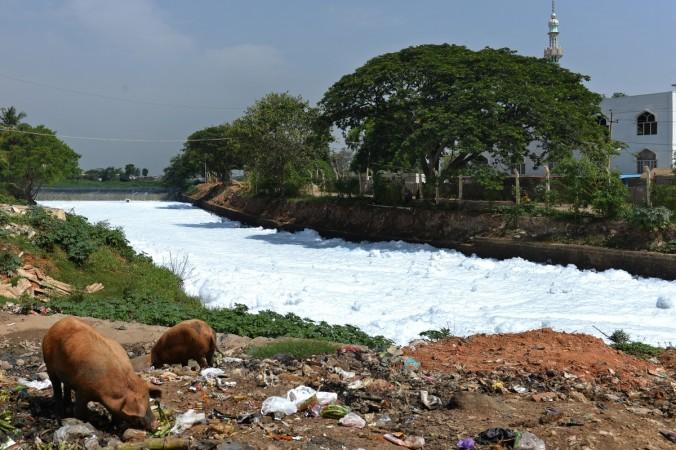 At times, the foam which is often seen in the canals connecting the lake starts to bubble onto the streets. A barrier was built on the side of one of the adjoining canals in Bellandur to keep the foam away from the roads.
In January, the lake caught fire and it lasted nearly 30 hours. Government agencies and defence personnel from Indian Army Service Corps were called in to put out the fire. No one was injured in the incident, but an army man was bitten by a snake during the rescue operations.
Why is the lake still unsafe?
According to reports, nearly seventy gallons of toxic waste gets released into the lake and the solution is sewage treatment plants (STP) that needed to be set up in the lake.
An overseeing authority named Karnataka Lake Conservation and Development Authority (KLCDA) was also created in 2015 to monitor the illegal activities going around the lake area. But the understaffed agency was unable to do much.
The residents in the Bellandur area have now formed a group to oversee the issues and to make people understand about the problems that could happen if it is not sorted out soon. The government had also invited professionals from the United Kingdom and Israel to solve this issue.
Social media has numerous images and videos of the lake's foam and the numerous fires in recent years. Recently, model-turned-actress Rashmika Mandanna had done a photoshoot to highlight the issue.
"Well wasn't aware of this till we had to actually go and shoot this in Bellandur lake..which like really broke my heart, and imagine few years down the line..it's the same case everywhere else.. I'd rather not want to be in that space," Mandanna had tweeted.

On December 6, the National Green Tribunal (NGT) had also issued orders asking the state government to keep an amount of Rs 500 crore to implement projects and action plans for the revival of Bellandur Lake.
The acting body has asked the Bruhat Bengaluru Mahanagara Palike (BBMP) to pay Rs 50 crore as a penalty to the Central Pollution Control Board (CPCB) as an environment compensation.