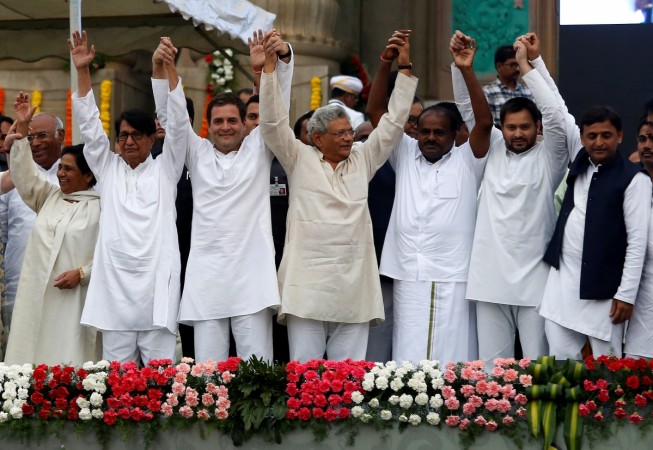 It looks like the confusion and drama around the Karnataka cabinet ministers are finally nearing an end. At least one hopes so! About 16 Congress leaders and nine JD(S) MLAs took oath as cabinet ministers on Wednesday, June 6.
The oath-taking ceremony began at around 2.12 pm at the Raj Bhavan, Karnataka Governor Vajubhai Vala's residence, in Bengaluru. In view of this, security around the Raj Bhavan had been tightened and more than 300 policemen had been deployed. The police had also imposed Section 144 around Vidhana Soudha and Raj Bhavan.
As it happened
The deputy chief minister G Parameshwara has asked more time to make decisions as it is a coalition government.
He added that the government will deliver what has been promised to people of Karnataka.
While addressing the issue of disgruntled MLAs, Parameshwara said that the party could accomodate only the chosen ones.
The chief minister has said that the government is looking for a permanent solution to the pothole issues in Bengaluru.
He added that there are are around 3,800 potholes to be closed, among which 1,500 have already been filled.
CM Kumaraswamy convenes the first cabinet meeting.
Party MLA Satish Jarkiholi has reportedly called for a meeting with more than 12 Congress MLAs at a hotel in Bengaluru.
25 MLAs took oath on June 6. Here is the complete list.
HD Kumaraswamy has called for a meeting at 4.30 PM with the newly formed coalition cabinet.
"I do not know why my name was not considered for ministerial berth. I was hopeful of a ministry till the last minute," News 9 quoted MB Patil as saying.
"I will work as an MLA in my constituency, do not want any ministry:
Supporters of Congress leaders, who were not given posts in the ministry are staging protests across Karnataka.
The coalition government is yet to select five more MLAs to complete the 32-member cabinet.
26 Gram Panchayat members of Tikota in Vijayapura are tendering their resignations, as they are upset over MB Patil not being given a post in the cabinet ministry.
Congress leaders like MB Patil and SatishJarkiholi, Basavaraj Horatti from JD(S) are upset over missing out on a cabinet berth.
MB Patil, Roshan Baig, Ramalinga Reddy and Eshwar Khandre of Congress; H Vishwanath amd Basavaraj Horatti of JD(S) missed out on cabinet berths.
Congress-JD(S) coalition cabinet sworn-in. A total of 25 ministers from the coalition government took charge as cabinet ministers.
Jayamala, the only woman MLA of the Karnataka cabinet has also taken her oath.
Independent MLA R Shankar takes oath as cabinet minister.
Puttaranga Shetty, RB Patil and Venkataramanappa of Congress sworn-in as Karnataka cabinet ministers.
Shivanand S Patil of the Rahul Gandhi-led party has also taken oath as cabinet minister.
N Mahesh of BSP sworn-in as cabinet minister.
Sa Ra Mahesh, CS Puttaraju and Venkatrao Nadagouda of JD(S); BZ Zameer Ahmed Khan, UT Khader and Priyank Kharge of Congress take oath as cabinet ministers.
SR Srinivas and Mallappa Channaveerappa Managuli of JD(S); Ramesh Jarkiholi, Nagasandra Hanumantha Shivashankara Reddy and Krishna Byre Gowda of Congress sworn-in as cabinet ministers.
KJ George from Congress and DC Thammanna of JD(S) has been sworn-in into the cabinet ministry.
GT Devegowda of JD(S) takes oath as Karnataka cabinet minister.
Governor Vajubhai Vala is administering the oath to the Congress and JD(S) ministers.
Congress' DK Shivakumar and RV Deshpande; JD(S)'s Bandeepa Kashampur and HD Revanna sworn-in as cabinet ministers.
Swearing-in ceremony begins at Raj Bhavan.
MB Patil requests supporters to maintain peace. He has said that he will talk to other leaders and then take a decision.
"I do not know why my name is not included in the list," says Congress leader MB Patil
A huge crowd has gathered outside his home and is protesting the denial of berth to Patil
Preparations under way at Raj Bhawan
Congress MLA MB Patil has been kept out of the Cabinet and Krishna Byre Gowda is at the former's residence to pacify him.
Differences have reportedly cropped up within the Congress party over berth allocation.
MLA CS Shivalli is said to be contemplating resignation
CM HD Kumaraswamy has reportedly sent the list of ministers to the governor
DK Shivakumar spoke about the berth allocation and said that he will go with the orders of the high command
Congress member Dr Ajay Singh too may not get a cabinet post and his supporters burned tyres and staged protests in Kalaburagi.
Congress leader Satish Jarkiholi is unlikely to get a berth this time and his supporters are reportedly unhappy with the development.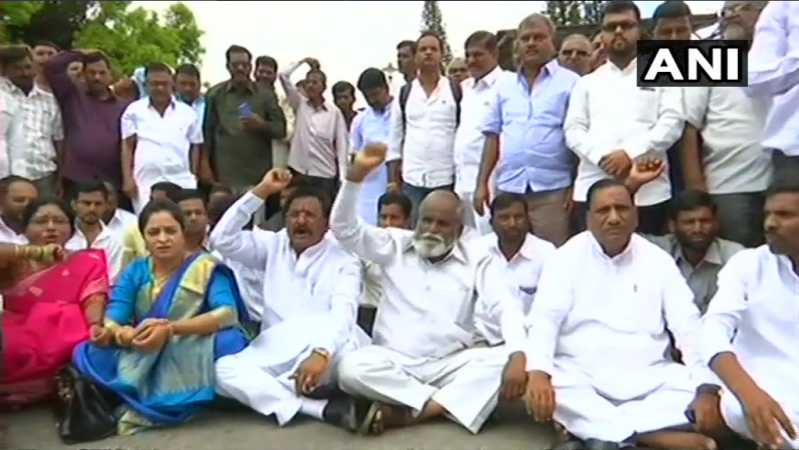 A huge crowd has gathered outside Vidhana Soudha in Bengaluru and is demanding a berth for Satish.
The JD(S) has also kept two posts vacant.
Nine MLAs from the JD(S) will be a part of the cabinet
The Congress has finalised a list of 16 MLAs, who'll be alloted a cabinet berth
The south Indian state went to polls on May 12, but none of the parties managed to secure a majority of 112 seats. While BJP secured 104 seats, Congress managed 79 and JD(S) 37. After the results, the Congress and the JD(S) formed an unconditional alliance and JD(S) leader HD Kumaraswamy was sworn- in as the chief minister of Karnataka.
Now that a Cabinet looks set to be formed, one cannot help but wonder which MLA will get what portfolio. While the exact details will be revealed only after the oath-taking ceremony, several speculations have been made on what portfolio each leader may get.
Who gets what?
Senior Congress leader DK Shivakumar, who was earlier said to be miffed about not being given the post of the deputy CM of Karnataka, is likely to get Water Resources ministry
KJ George may get Revenue.
Ramesh Jarkiholi name has been pitched for Social Welfare.
Priyank Kharge might get Housing.
Zameer Ahmed Khan is likely to get Food and Civil Supplies, reported News 9.
Other MLAs who will also be alloted cabinet berths are said to be RV Deshpande, Jayamala and UT Khader.
However, several well-known names such as Ramalinga Reddy, MB Patil, KH Patil, Dinesh Gundu Rao, Eshwar Khandre, M Krishnappa, Satish Jarkiholi, Roshan Baig & HM Revanna may be kept out of the cabinet.
Meanwhile, JD(S) has reportedly finalised nine names for various portfolios but no one has been named yet. It has also kept two places vacant, "to avoid rebellion in the party."
However, it was earlier said that the alliance would opt for a "20-13" formula while allocating cabinet berths, under which Congress, which won 79 seats at the election will get 20 cabinet posts, while JD(S), which won 37 seats will get 13 posts.
A few likely names and their portfolios were also doing the rounds earlier, but it looks like the plan has undergone several changes.
Here's the previous list.
From JD(S)
HD Kumaraswamy -- CM and Finance
CS Puttaraju – Agriculture
H Vishwanath – Education
N Mahesh -- Social Welfare
GT Deve Gowda – Cooperatives
Bandeppa Kashempur -- Textiles and Endowments
DC Thammanna – Labor
RV Deshpande -- Law and Parliamentary affairs
AT Ramaswamy -- Industries
From Congress
G Parameshwara -- Deputy Chief Minister and Home
KJ George -- Bengaluru Development
M Krishnappa -- Sports
Krishna Byre Gowda -- Information and publicity
Dinesh Gundu Rao -- Excise
Dr K Sudhakar -- Health
Tanveer Sait -- Higher education
Roshan Baig -- Forest
MD Patil -- Food and Civil Supplies
Satish Jarkiholi -- Small Industries and Sugar
Dr Ajay -- Science and Technology
S Shivashankarappa -- Revenue
Ramalinga Reddy -- Transport
R Narendra -- Animal Husbandry
A Lowdown of what has happened until now
The counting for the May 12 assembly election takes place on May 15, in which BJP manages to secure 104 seats, Congress wins 79 seats and the JD(S) wins 37 seats.
The state is left with a hung assembly as no party attains a 112 majority, required to form the government. In tune, the Congress forms an unconditional alliance with the JD(S) even inviting HD Kumaraswamy to be the CM.
However, the BJP claims a stake to form the government and says that it is the single largest party in the state. Governor Vala invites the party to form the government and gives it 15 days to prove majority.
The Congress-JD(S) alliance objects to this and files a petition with the SC to put a stay on Yeddyurappa's swearing-in ceremony. In a midnight hearing, the SC refuses to stay the oath-taking but schedules another hearing for May 18.
Yeddyurappa takes oath as the 23rd CM of Karnataka during an elaborate ceremony at the Raj Bhavan in Bengaluru. He holds his first cabinet meeting and even promises to announce a farm loan waiver of Rs 1 lakh.
The Congress-JD(S) alliance vehemently opposes the swearing-in, calling it unconstitutional.
The other parties even claim that the BJP has already gotten in touch with them offering them ministerial positions in exchange of support.
"I got a call from the BJP leaders. They said come to us & we'll give a ministry to you. We'll make you a minister. But, I'm going to stay here. HD Kumaraswamy is our Chief Minister," Amaregouda Linganagouda Patil Bayyapur, a Congress member, told ANI.
Amid such fears, the Congress and JD(S) MLAs are moved to Hyderabad overnight.
The SC hears the petition once again May 18 at 10:30 am and questions Vala's decision to permit BJP to form the government and orders a floor test Saturday.
While the BJP says that it will prove majority in the house Saturday, its plans go haywire and BSY tenders his resignation.
The Congress-JD(S) alliance then form the government in Karnataka and JD(S) leader Kumaraswamy is sworn-in along with H Parameshwara as deputy CM.
The decision on Cabinet ministers is put on hold as Congress leaders Rahul and Sonia Gandhi jet off to the US for medical issues.
The decision on the portfolio is finally made and is set to be announced on June 6