Prior to the polling, all major political parties were touting Karnataka elections 2018 as the three-way battle between chief ministerial candidates—Siddaramaih (Congress), BS Yeddyurappa (Bharatiya Janata Party) and HD Kumaraswamy (Janata Dal-Secular). But now, most of the exit opinion polls are predicting a fractured verdict on May 15.
There is a strong possibility of JD(S) becoming a kingmaker and depending on the situation, it might either go with Congress or BJP way. This apparently opens door to other key leaders in all three parties to aspire for the CM seat.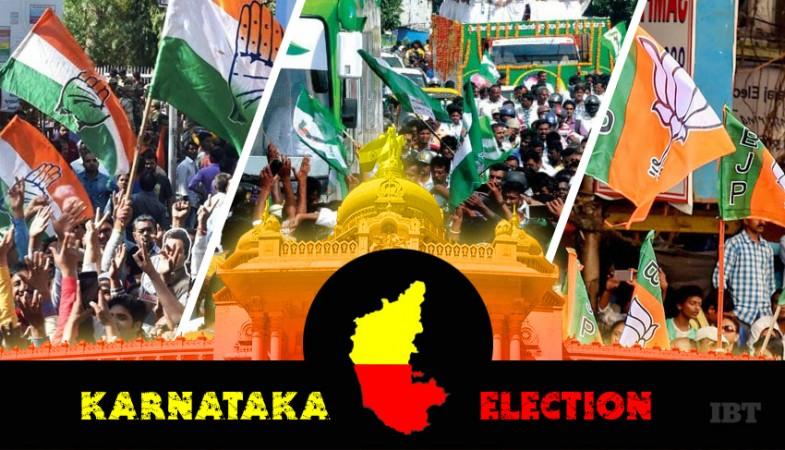 Here's a list of top 8 candidates who are likely to become chief minister of Karnataka:
1) HD Kumaraswamy: Our first pick is HD Kumaraswamy, as both Congress and BJP in the event of a hung assembly, will try to woo JD(S) president by offering him first the CM seat for 2.5 years and rule the remaining half term. Unlike the 2004-2008 coalition governments, Kumaraswamy will be wise enough not to renege his pact this time, with whichever party he finally decides to support. After a hectic poll campaigning for over three months, he took a two day vacation to Singapore with his son Nikhil Gowda . He is expected to return Monday, a day prior to the declaration of Karnataka elections results on May 15.
2) Mallikarjun Kharge: In the event of a hung assembly and if JD(S) decides to support Congress, it is unlikely to support incumbent CM Siddaramaih, owing to his animosity with HD Deve Gowda and his family. In that case, JD(S) in a bid to garner minority voters for future elections, might support Mallikarjun Kharge. The former is one of the most senior Congress leaders and has a good rapport with the high command along with local state leaders. He is currently the opposition leader in the Lok Sabha.
Even if Congress crosses the magic mark of 113 by itself in the Karnataka elections, Kharge, who has won a record 9 assembly elections and a general assembly in 2014, is the front-runner this time to become the CM. With his clean image and vast experience in administration, the top leadership can rely on him to take the party forward with an eye on 2019 Lok Sabha elections. Even Siddaramaih, in a recent interview, said that he would have no problem if the party decides to make a Dalit the next CM of Karnataka.
In his close to 5-decade career, Kharge has served as the cabinet minister in the departments like Rural Development & Panchayati Raj, Revenue, Co-operation, Medium and Large Industries, Home, Infrastructure Development and Minor Irrigation, Water Resources and Transport, among others.
During the United Progressive Alliance (UPA) government, he served as union minister for Railways, Labour and Employment.
If given a chance, he might vacate his MP seat and secure a Member Legislative Council (MLC) seat. Coincidentally, Karnataka Election Commission has already notified the date for the election of six MLC seats on June 8, which will come just in time for Kharge.
3) G Parameshwara: If Congress decides to keep Mallikarjun Kharge as the opposition leader of Lok Sabha, then the second most senior Dalit leader G Parameshwara might stake the claim for CM post, provided he wins his seat in Korategere. Even if Congress partners with JD(S) to form a coalition government, the latter will support him. Parameshwara suffered a shock defeat in 2013 at this very constituency, which also cost him the Chief Minister's post. This time, he is said to have done proper campaign to ensure a win in Korategere.
4) DK Shivakumar: Though he is a controversial political figure, we cannot discount the fact that DK Shivakumar is one of the most influential Vokkaliga leaders in Congress. Shivakumar, despite knowing the risk of taking on the central government, played host to 44 Gujarat MLAs in a resort on the outskirts of Bengaluru, so that they don't deflect to the BJP during Rajya Sabha elections earlier in August 2017. Income Tax officials grilled him for four straight days and also raided his houses, resort and also his aides' and relatives' properties. He still continues to be a force to reckon with in Congress.
Shivakumar used to be a strong critic of Kumaraswamy, but recently he has been seen cozying up with the former during several Vokkaliga conventions and has heaped praise on HD Deve Gowda's contribution to Karnataka. Recent reports have indicated that Shivakumar has a tacit understanding with Kumaraswamy to defeat Channapatna's BJP candidate CP Yogeeshwara. Congress leader is said to be very unhappy with Yogeeshwara for jumping ship to BJP, despite the former helping him get a good amount of government funds to develop Channapatna town.
In the eventuality of a hung assembly, HD Kumaraswamy might support DK Shivakumar to become the next CM for at least half of the 5-year term.
5) B S Yeddyurappa: He is already a CM-nominee of BJP and if the saffron party manages to win half of the 224 constituencies, there is no stopping him to stake a claim to form the government in Karnataka. Even in the eventuality of a fractured verdict, he is skillful enough to broker with JD(S) president Kumaraswamy. If need be Yeddyurappa can take help of national leaders Amit Shah and Narendra Modi to convince the former to form the government.
6) Jagadish Shettar: He comes in to play only in the eventuality of the hung election verdict. Because Shettar is one of the senior most BJP leaders in the state and has held the prominent cabinet posts and also the CM office for a brief period between 2012-13. He also comes from North Karnataka region and has been associated with many reforms including the establishment of South Western railways headquarters in Hubli Dharwad, critically important the Kalasa-Banduri Nala project to provide drinking water supply to Belgavi, Dharwad, and Gadag, construction of Suvarna Vidhana Soudha in Belgavi and more.
If Kumaraswamy JD(S) decides to support BJP, but not Yeddyurappa, Shettar has the strong chance to become the next CM of Karnataka.
7) B Sriramulu: Though he is a political novice compared to all the leaders in the list, Sriramulu is the dark horse to become CM. He is contesting in two seats one in Molakalmuru, where he is favorite to win the election and also he is pitted against the political heavyweight and incumbent CM Siddaramaih in Badami.
The fight between Sriramulu and Siddaramaih is a close battle. The former belongs to the Valmiki community, which constitutes around 30,000 of the total population (2.4 lakh). He commands a strong influence on tribals stretching from Hyderabad-Karnataka to Chitradurga regions.
To add woes, the Lingayat community, which constitutes around 72,000 of the population are not happy with the Siddaramaih government's decision for the recommendation to accord minority status. This move is being looked as a ploy by Congress to divide the Hindu religion for the sake of gaining vote share. Sriramulu is also backed by mining baron and a close friend Janardhana Reddy, who is a controversial figure.
If he wins against Siddaramaih and in case of a hung assembly, JD(S) would support Sriramlulu, a tribal leader to become the next CM of Karnataka.
8) Siddaramiah: He is contesting from two constituencies –one in Chamundeshwari and another in Badami. If he wins either one of the seats and Congress reaches the magic number of 113 seats, no one can stop Siddaramiah from becoming the CM for the second term. However, if there is a hung assembly and Congress asks for support from HD Kumaraswamy, then Siddaramaiah is unlikely to become the CM.
Siddaramaih was once a prominent JD(S) leader but was expelled by the party supremo and mentor HD Deve Gowda over differences of opinion. Since then, Siddaramaih has been keeping a grudge over the former and whenever there was a chance, he would bad mouth Deve Gowda.
He is also accused of ordering the removal of former Prime Minister Deve Gowda's portrait in Vidhana Soudha and transferring Vokkaliga government officials to low profile designations, while the officers of Kuraba community were given coveted positions.
Sensing trouble in Chamundeshwari, he filed nominations in Badami as a safety net. But, BJP surprised the CM by fielding the popular Valmiki community leader Sriramulu there.
The outcome of Karnataka elections is just a few hours away. Stay tuned!
International Business Times India will be live reporting on the counting day. Follow us at @ibtimes_india on Twitter for the latest news on Karnataka elections 2018 results.