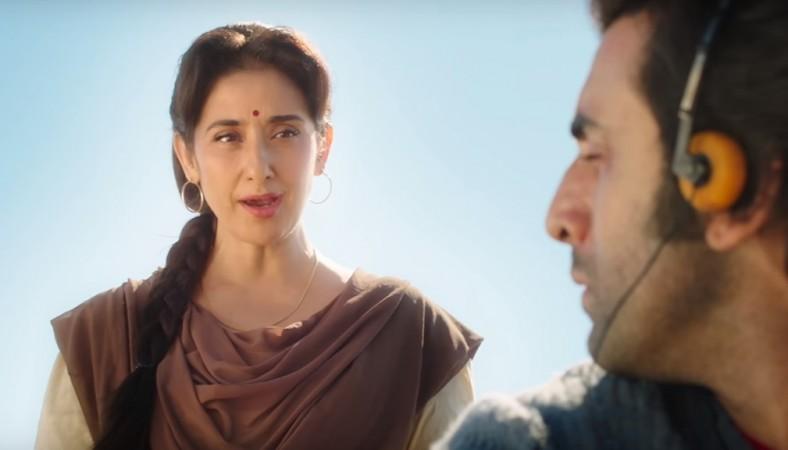 Director Rajkumar Hirani has dropped the second song of Sanju, Kar Har Maidan Fateh which shows Sanjay Dutt's battle against drug addiction. And it wouldn't be wrong to say Ranbir Kapoor has aced the spine-chilling sequences with his brilliant act and can be called his best performance till date. But more than Ranbir's act as Sanjay Dutt, Manisha Koirala's spitting resemblance to Nargis Dutt has stumped her fans to a great extent and made them speechless.
Sukhwinder Singh and Shreya Ghoshal have created magic with their melodious voices and the lyrics by Shekhar Astitwa and the dramatic score by Vikram Montrose manages to shake your soul from within. The song perfectly sums up one of the darkest phases of Sanjay Dutt's life and is all about hope, courage and family support.
Ranbir Kapoor may have emoted the scenes well but it was Manisha Koirala's flawless act that has now emerged to be the best part in the song. Her act has made fans restless as she reminded of Nargis Dutt in each and every frame. Take a look.
"How beautiful is the song #KarHarMaidaanFateh ? and the best part in the song is definitely @mkoirala how flawless she was. she was the best choice to portray nargis in #Sanju," a Twitter user wrote.
"Heard the next song to.. Triggering my patience!! Just can't wait to see #Sanju.. and our one and only #Nargis @mkoirala mam, a perfect portray of her!!" another user tweeted.
"@mkoirala ur performance in the song gives me more confident that can see more of u in the movie can't wait mum. perfect match," an impatient fan wrote on Twitter.
"Needless to say but @mkoirala has already stumped me with the Nargis look," another Twitter user said.
"Dear @mkoirala,
I don't know for how long u will be seen on screen in Sanju but one thing is for sure, it will make us remember u as Nargisji for a lifetime.. The small presence of urs in Kar har maidan fateh song is largely felt. Missed u watching in movies these years," a die hard Manisha Koirala fan wrote on Twitter.
"More than #RanbirKapoor, I am in an awe of #ManishaKoirala in the song #KarHarMaidanFateh. In every frame she reminds me of #NargisDutt. It is so good to see her back!" an user shared his honest opinion on Twitter.
Watch Kar Har Maidan Fateh song from Sanju here:
how beautiful is the song #KarHarMaidaanFateh ? and the best part in the song is definitely @mkoirala how flawless she was. she was the best choice to portray nargis in #Sanju

— yasemin (@ysmnly) June 10, 2018
Heard the next song to.. Triggering my patience!! Just can't wait to see #Sanju.. and our one and only #Nargis @mkoirala mam, a perfect portray of her!! — Soumava Basu (@soumavabasu91) June 10, 2018
@mkoirala ur performance in the song gives me more confident that can see more of u in the movie can't wait mum. perfect match

— @iamBelloDatti (@DattiBello) June 10, 2018
Sorry but is this Ladakh? Needless to say but @mkoirala has already stumped me with the Nargis look. — Dipti.Kane (@DiptiKane) June 10, 2018
Dear @mkoirala,
I don't know for how long u will be seen on screen in Sanju but one thing is for sure, it will make us remember u as Nargisji for a lifetime.. The small presence of urs in Kar har maidan fateh song is largely felt. Missed u watching in movies these years..

— Deepak Mishra (@aman_anubhav) June 10, 2018
More than #RanbirKapoor, I am in an awe of #ManishaKoirala in the song #KarHarMaidanFateh. In every frame she reminds me of #NargisDutt. It is so good to see her back!@RajkumarHirani @mkoirala https://t.co/CUY8S7Da6u — MURTUZA IQBAL (@MurtuzIqbal) June 10, 2018