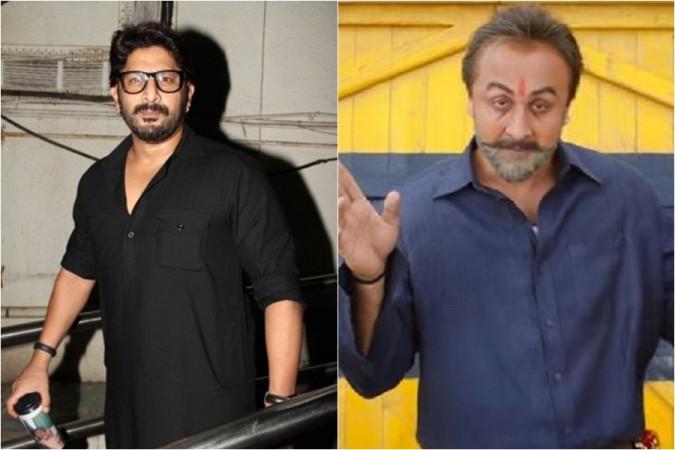 Ranbir Kapoor may have given his sweat and blood to look convincing as Sanjay Dutt in the upcoming biopic Sanju, directed by Rajkumar Hirani, but somewhat he has failed to impress Dutt's close friends Salman Khan and Arshad Warsi.
Sanju has been the most-awaited and most-anticipated biopic of the year. Ever since the news broke out, there has been a huge buzz around the biopic. And since the beginning, many people had doubts whether Ranbir would do to justice in portraying Sanjay Dutt's life and bring out the same machismo on screen.
But Salman and Arshad feels that no matter what you do, no one can be like Sanju.
When Arshad Warsi was recently asked at an event about Ranbir Kapoor playing the role of Sanjay Dutt in the biopic, he first praised the Rockstar like anything. He said the way Ranbir has imbibed Sanju baba's mannerism was commendable and said he is a great actor.
But when Arshad was informed about Salman Khan's statement and that the latter felt that Hirani should've let Sanjay Dutt play his part rather than Ranbir Kapoor, he said, "Obviously, because Sanju is Sanju. No matter what you do, you cannot be Sanju! You can't be the original. The way Sanju walks and talks; an actor can only imitate. He cannot become Sanju."
Salman Khan and Sanjay Dutt's friendship go a long way. They have been the closest of the friends and the bitterest enemies but they always had a feeling of respect and admiration for one another.
So when Salman watched the trailer of Sanju, he wasn't really impressed with it.
"Whenever Sanju wants to make a comeback, he will. It is all left to Sanjay Dutt, the day he thinks 'I want to come back, he will be back.' Even for the movie Sanju, I thought why did somebody else play his part. No one can do justice to that. The last bit of the film, Sanju only should have played it himself. The last portion of the last eight to ten years, Sanju only should have done it," Salman said at a recent event.
There are also a section of audience who are really not convinced with Ranbir's portrayal of Sanjay Dutt as they felt he did not match up to the level of Sanju baba's heroism image. However, there were many who felt it was his best performance till date.
While there is a huge difference of opinion among the fans, it remains to be seen whether Ranbir would prove his fans wrong or will it go into a straight nosedive. Let's wait and watch as the movie is all set to hit the theatres on June 29.
Sanju also stars Sonam Kapoor, Dia Mirza, Manisha Koirala, Paresh Rawal, Anushka Sharma, Jim Sarbh, Vicky Kaushal and others in important roles.